Great interest in DecideAct's leadership conference on promise-based execution in Iceland.
An exclusive leadership conference on promise-based execution was held today at the Hilton Reykjavík Nordica, and interest was high. Speakers included Claus Maron and Niels Beck from Blue Note Consultants in Denmark, and Ragna Árnadóttir, Secretary-General of the Icelandic Parliament.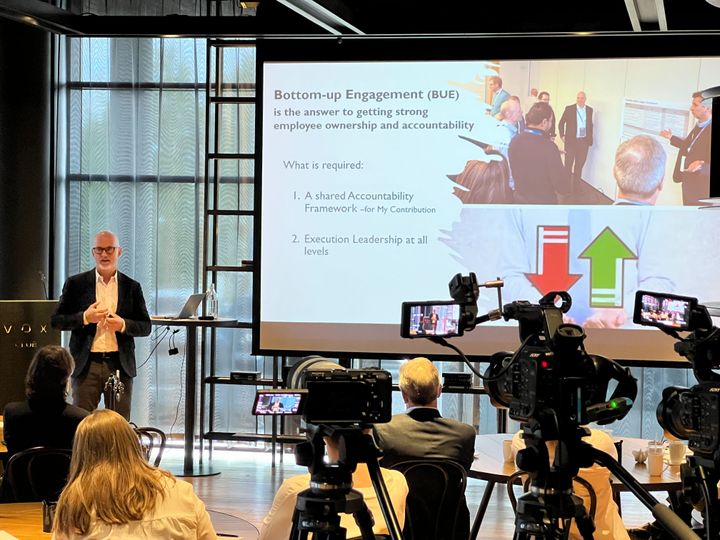 Promise Based Execution is a very interesting approach when it comes to executing strategies and changes. The approach focuses on how best to mobilize middle managers and staff to participate in strategic work and link them clearly to the strategy. Experience shows that this is where the shoe pinches most. The line of sight is missing, and employees have difficulty linking their day-to-day actions and activities to the company's strategy. They fail to see the purpose and even find it burdensome. Promise Based Execution is a highly focused approach that creates a clear purpose and a committed atmosphere around strategy execution. To support exactly this way of execution, DecideAct has created a dedicated module in their groundbreaking digital platform for strategy execution.
This was discussed at an exclusive executive conference at the Hilton Reykjavík Nordica in Iceland on Tuesday 14 June. Among the speakers were Claus Maron and Niels Beck, founders of Blue Note Consultants in Denmark, who both have decades of experience as executives and implementing policies for companies around the world and are just finishing a book on the subject. Ragna Árnadóttir, an experienced director and current Secretary-General of the Icelandic Parliament, discussed project-oriented culture, challenges, and opportunities. In addition, Bjarni Snæbjörn Jónsson, CSO and partner in DecideAct talked about how Promise Based Execution can be structured and come to life in companies and organizations by using a digital platform.
Ragna Árnadóttir focused on how to manage your stakeholders and how to create leadership that supports an executing culture. She stressed that as a top manager, you must be willing to ask for help on the one hand and have the courage to break a promise on the other, in order to follow through on agile decision-making.
Claus Maron from Blue Note Consultants said that accelerating change and increasing market uncertainty makes companies look for ways to increase the speed and flexibility of strategy execution. OKRs (Objectives and Key Results) are often acknowledged as a solution to the challenge, but despite OKRs' many benefits, it's no miracle cure. It's more about management.
"OKRs are effective because they provide clarity on what is most valuable to focus on and effort in a quarter, but the necessary results will only be achieved if leaders can create ownership and accountability across the organization - and that's the hard part. OKRs as a common framework is a good necessary foundation, but it cannot stand alone. It is also necessary to build organizational discipline, and here the use of a digital platform is essential to ensure consistent benefits from the implementation framework. Therefore, leaders at all levels need to master the discipline of Execution Leadership. This is where Promise Based Execution comes in, and having a system like DecideAct makes it easier to follow and monitor," concluded Claus Maron.
He and Niels Beck are founding partners of Blue Note Consultants—an advisory firm with 1500 consultants around the world specializing in Strategy Execution and Execution Leadership. Blue Note is also one of DecideAct's strategic partners in Denmark.
DecideAct develops and delivers SaaS (Software as a Service) and solutions that move manual strategy execution and monitoring to a cloud-based Strategy Execution Management platform. By rethinking the way strategy is executed, DecideAct has created a cutting-edge tool that is relevant to all businesses and organizations and their mission-critical priorities in achieving strategic goals.
Link to the blog "From OKRs to Strategy Implementation"
Contacts
Flemming Videriksen, CEO & Founder
fv@decideact.net
Mobile: +45 27114460

Images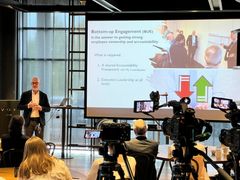 About DecideAct
DecideAct er en cloudbaseret platform til implementering og eksekvering af strategi. Med DecideAct bliver en virksomheds strategiske performance lige så konkret, transparent og målbar som dens finansielle performance.