Is Valentine's Day a 'proper' special occasion, or is it too commercialised?
Across the world, people have a cynical view of the celebration. Just 5% of Danes and 15% of Swedes see Valentine's Day as being celebrated on its own terms.

driven to do so out of the love in their heart, or because they are being bombarded by companies telling them to express their affection through the medium of buying things?
A new YouGov survey in 18 countries and territories shows that Valentine's Day is seen cynically in each one. We asked more than 19,000 people whether they thought Valentine's Day is celebrated more because it is a 'proper' special occasion, or if it was an occasion that people wouldn't celebrate if it weren't for pressure from commercial entities like greetings card companies.
The online Chinese population are the most likely to see Valentine's Day as being celebrated on its own terms, at 41%. However, just as many (45%) believe that it is celebrated more due to commercial pressure.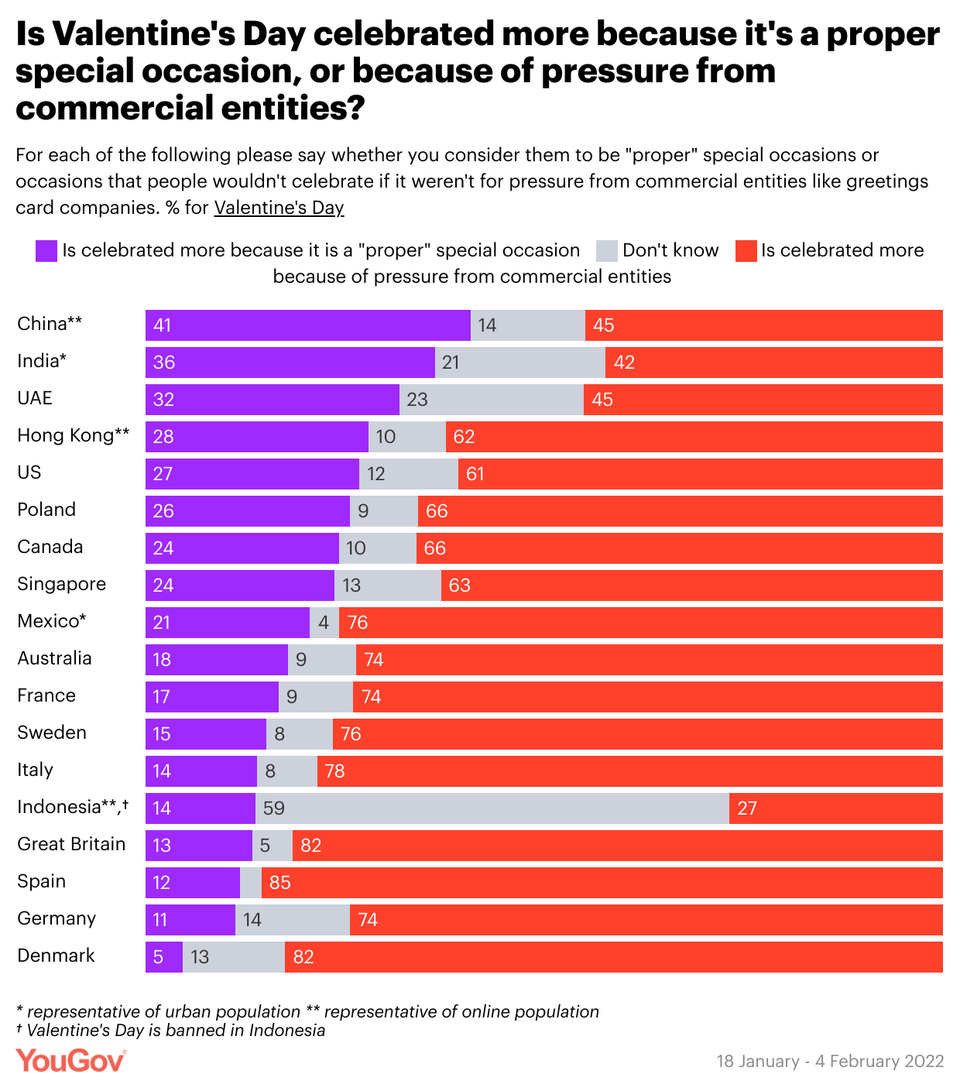 Danes are the least likely to see Valentine's Day as a 'proper' special occasion, at just 5%. Fully 82% of Dane see it more as a commercialised event, a figure matched in Britain and topped in Spain (85%). In the Western countries surveyed, no more than 27% of people say they think the lovers' day is observed for 'real' reasons.
Men and women share the same scepticism for the celebration the world over. In all countries and territories, men and women are about as likely as one another to say that Valentine's Day is celebrated more because of commercial pressure.
While younger people tend to be somewhat less hostile to Valentine's Day than older people, the overall picture is still one of heavy scepticism across the generations. The biggest exception is China, where young people are divided: 18-34 year olds are split 45% / 45% on whether the romantic event is celebrated for legitimate reasons.
Contacts
Matthew Smith
Head of Data Journalism @mattsmithetc

About YouGov Denmark
YouGov Denmark
Klosterstræde 9
1157 København K


About YouGov
YouGov is an international online research data and analytics technology group.
Our mission is to offer unparalleled insight into what the world thinks.
Our innovative solutions help the world's most recognised brands, media owners and agencies to plan, activate and track their marketing activities better.
With operations in the UK, the Americas, Europe, the Middle East, India and Asia Pacific, we have one of the world's largest research networks.
At the core of our platform is an ever-growing source of consumer data that has been amassed over our twenty years of operation. We call it Living Data. All of our products and services draw upon this detailed understanding of our 22 million registered panel members to deliver accurate, actionable consumer insights.
As innovators and pioneers of online market research, we have a strong reputation as a trusted source of accurate data and insights. Testament to this, YouGov data is regularly referenced by the global press, and we are the most quoted market research source in the world.
YouGov. Living Consumer Intelligence.
For further information, visit business.yougov.com