International study: how badly has COVID-19 affected people's mental health?
Ahead of World Mental Health Day this Sunday, a new international YouGov study highlights the impact that the coronavirus pandemic has had on people's mental wellbeing around the world.

Online Thais are the most likely to report a negative impact on their mental health (81%), including 34% who say it's had a very negative impact.
Online Filipinos are the next most affect, with 73% reporting a negative affect on their mental wellbeing, followed by online Vietnamese at 71%.
All three countries have experienced recent surges in COVID-19 case numbers.
At the bottom of the list is Saudi Arabia, where only one in three online urban Saudis (36%) say that the pandemic has taken its toll on their mental health.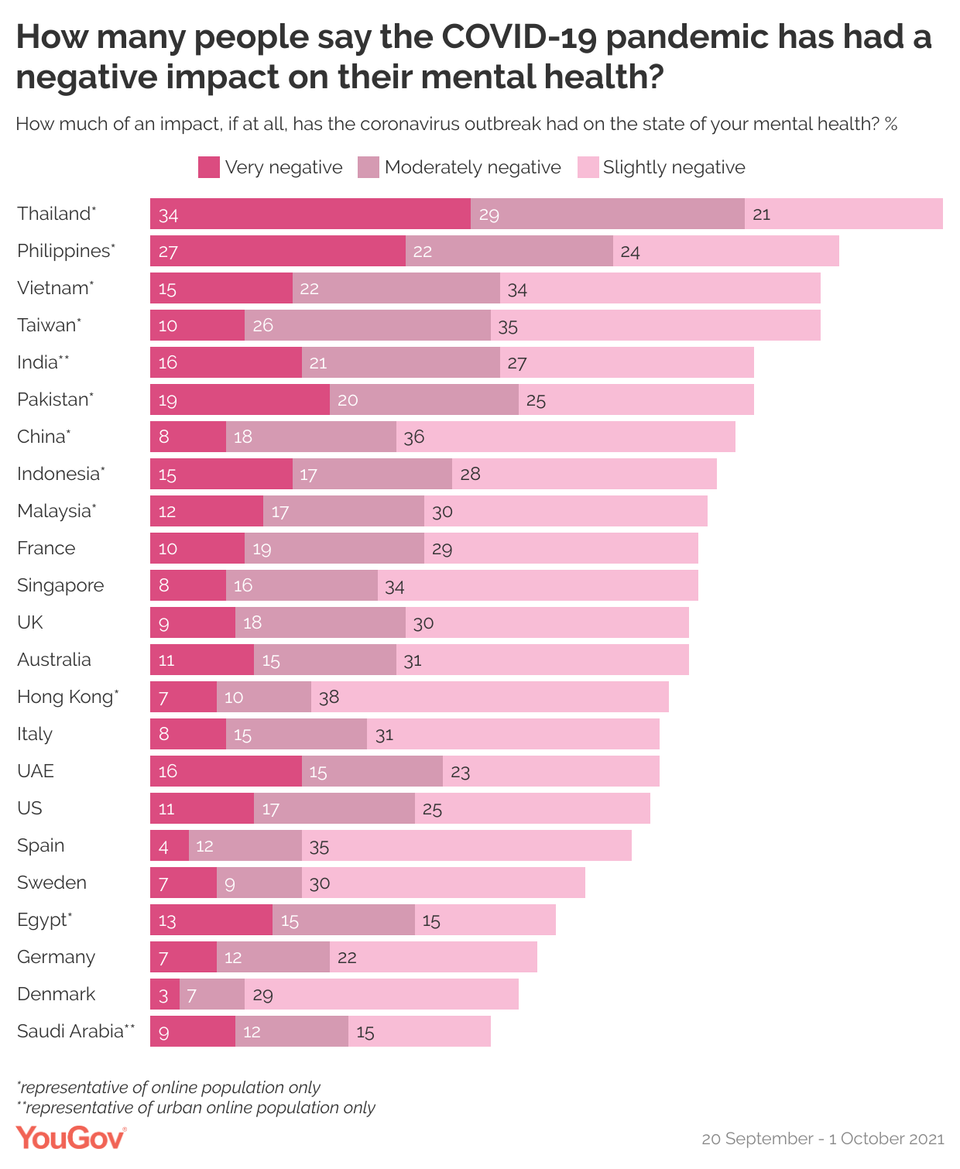 Looking to Europe, France and the UK tops the regional list, with 58% and 57% respectively saying their mental wellbeing has taken a hit. Both countries have experienced tougher third waves than many of their neighbours (and increasingly so in the UK's case).
Danes and Germans are the least likely of the Europeans surveyed to say they were experiencing problems (40% in each country).
In the United States, which is currently coming out of its own tough third wave, 53% say they think their mental health has been negatively impacted.
Noticeably fewer Danes, Swedes, Britons and online Hong Kongers report mental health troubles than last year
The study is a repeat of one YouGov conducted in November 2020. In many countries the number of people saying the pandemic has had a negative affect on them is largely the same, but there are notable exceptions.
The number of people reporting poor mental health has fallen farthest in Denmark, with 51% now saying so compared to 40% in late 2020.
Online Hong Kongers, as well as Britons, Swedes and Italians, are also now noticeably less likely to report their mental health suffering.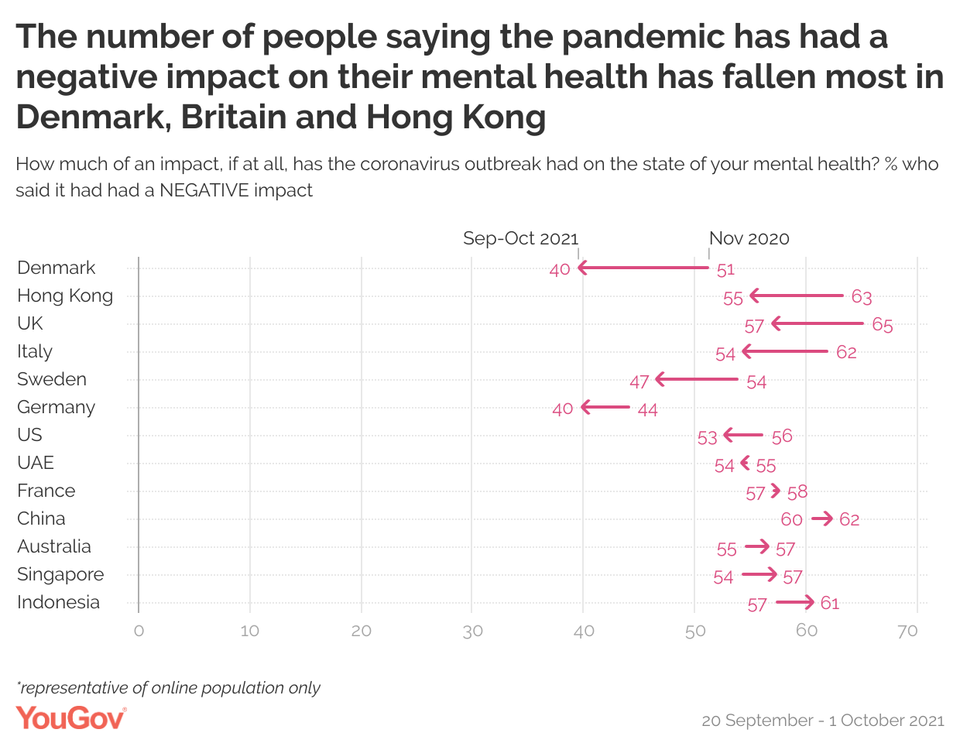 About YouGov Denmark
YouGov Denmark
Klosterstræde 9
1157 København K


About YouGov
YouGov is an international research and data analytics group.
Our mission is to supply a continuous stream of accurate data into what the world thinks, so that organisations can better serve the communities that sustain them.
Our 17 million registered members provide us with a highly engaged proprietary panel that delivers thousands of data points on consumer opinions, attitudes and behaviour on a daily basis. We combine this continuous stream of data with our research expertise to provide insights that enable intelligent decision-making and informed conversations.
With operations in the UK, North America, Mainland Europe, the Nordics, the Middle East, India and Asia Pacific, YouGov has one of the world's largest research networks.
YouGov
Best panel
Best data
Best tools
For further information visit yougov.com.
Subscribe to releases from YouGov Denmark
Subscribe to all the latest releases from YouGov Denmark by registering your e-mail address below. You can unsubscribe at any time.
Latest releases from YouGov Denmark
In our pressroom you can read all our latest releases, find our press contacts, images, documents and other relevant information about us.
Visit our pressroom