Cycling takes centre stage at the ITS World Congress 2018: Connected, Cooperative and Sustainable
When The World ITS Congress 2018 with the slogan 'Quality of Life' 17-21 september takes place in Copenhagen, cycling has its highest ever presence on the congress stage, in the programme and in supporting side events.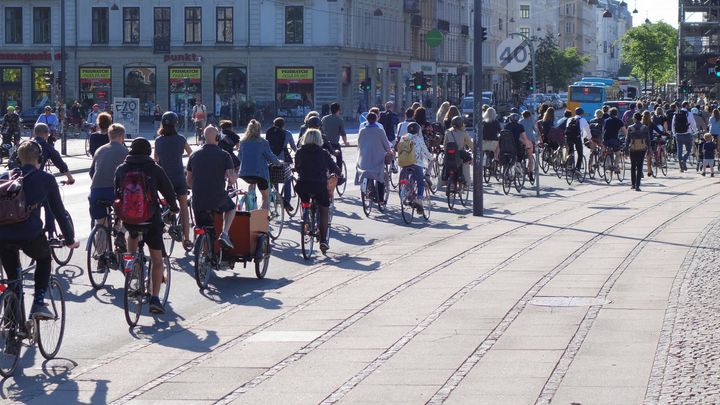 The World ITS Congress 2018 with the slogan "Quality of Life" takes place in Copenhagen, one of the world's foremost cycling cities. The collaboration of the city and Europe's leading cycling advocacy organisations means that cycling has its highest ever presence on the congress stage, in the programme and in supporting side events.
Cycling is increasingly recognised as one a transport mode that increases the quality of life in cities. The Congress will provide a perfect platform to actively discuss, with the relevant stakeholders, the different challenges, risks, opportunities and advantages of ITS and cycling. This discussion recognises the strategic importance of active mobility to future cities and how it is integrated in the smart, integrated mobility of the future.
Christophe Najdovski, Deputy Mayor of Paris for Transportation, Mobility, Roadway and Public Space and European Cyclists' Federation (ECF) President, will be one of the speakers at the ITS Congress inauguration with EU Commissioner for Transport, Violeta Bulc.
Mr Najdovski affirms:
"A Europe of sustainable mobility is indeed a continent where active mobility, walking and biking are the basis of a mobility system, in close articulation with mass transport. The smart vehicle has already been invented: it's the bicycle and it´s the vehicle of the future."
Klaus Bondam, CEO of the Danish Cyclists' Federation, agrees:
"The key issue is whether the layout of our cities in the future is shaped by the new technology - or if our wishes for the city's future design will help to shape and develop the technology. We need to make sure that cycling and walking - active mobility – are an integrated part of the discussion on ITS in an urban context. Especially when in the last years the ITS World Congress takes place in one of the most liveable - and bicycle friendly cities in the world. Welcome to the urban future!"
There is an extensive series of cycling related sessions on the official ITS programme that includes subjects such as autonomous vehicles, Cycling and Mobility as a Service, bike sharing, space optimization through advanced cycle planning tools, data management for bicycle traffic and cycling superhighways.
New concepts look at the long-term future for connected, electric and human mobility – a "Fusion Mobility" being developed by ECF's Scientists for Cycling academic network.
Side events and technical excursions will also include opportunities to experience cycling in Copenhagen, networks with the leading experts in the field:
Tues 18 16:30: A reception hosted by the leading advocacy organisations Danish Cyclists' Federation (DCF), German ADFC, Dutch Fietsersbond and ECF with Christophe Najdovski, ECF President, More information https://bit.ly/2N6jqVd. Register: its@cyklistforbundet.dk 
Thurs 20: Technical visit 'Bicycle planning is city planning' and the Presentation: 'Copenhagen – City of cyclists'
Kevin Mayne, ECF Development Director has coordinated ECF's Smarter Cycling initiative for several years and welcomes the high profile of cycling at ITS World Congress 2018:
"I am delighted with the change of profile for cycling in ITS that we see in Copenhagen. It is clear now that the ITS community begins to recognise that ITS without active mobility fails cities and it fails citizens. Under the umbrella of the we are coordinating all our contributions – from civil society, industry, academia and our public sector partners to show what cycling can deliver. ITS Copenhagen 2018 is where we make that visible."
DIARY OF EVENTS: CYCLING HIGHLIGHTS
On Tuesday 18 at the ITS Forum a round table "Opportunities of connectivity, cooperation and sustainability within cities, with cycling as a powerful tool for intelligent mobility solutions' will be moderated by Kevin Mayne with key leaders in the sector such as Klaus Bondam, CEO Danish Cyclists' Federation. Mads Gaml, Head of ITS Program City of Copenhagen, Monique Harmsen, CEO LumiGuide, Jonna Pöllänen, Head of Early Markets MaaS Global, Astrid Kellermann, Senior Technical Consultant Mobility, Business Development and Strategy Siemens Mobility GmbH and Philippe Crist, Advisor - Innovation and Foresight, ITF, OECD.
From the citizenship perspective Niccolo Panozzo, Development Officer at ECF speaking at the session Vulnerable road users (Autonomous vehicles) session assures: "Cycling delivers huge improvements in liveability, health, economy, pollution and congestion. ITS enables bicycles to do much more than this and delivers invaluable data to city planners and IT experts."
On the behavioural aspect Manfred Neun, honorary ECF President, will speak on "Fusion Mobility" at the Behavioural factors 2 session. Manfred states: "There's a need to invest in a transport system with integrated means of transport to overcome fragmented policy and planning. Copenhagen is doing it and we're seeing the results".
Docs attached: See full list of cycling events during ITS below
Photos: www.flickr.com/photos/eucyclistsfed/sets/72157671215027777
About the European Cyclists' Federation: With over 80 members across more than 40 countries, the European Cyclists' Federation (ECF) unites cyclists' associations from across the globe, giving them a voice on the international level. Our aim is to get more people cycling more often by influencing policy in favor of cycling.
Kontakter
For Christophe Najdovski
Contact: emmanuel.samaniego@paris.fr

For ECF:
Contact Maria Gaton m.gaton@ecf.com Tel: +32 02 880 92 74
Niccolo Panozzo n.panozzo@ecf.com Tel +32483733327

For Danish Cyclists' Federation (DCF):
Contact Klaus Bondam bondam@cyklistforbundet.dk Tel + 45 4070 8365

Billeder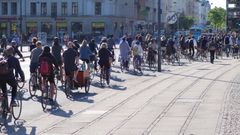 Information om Cyklistforbundet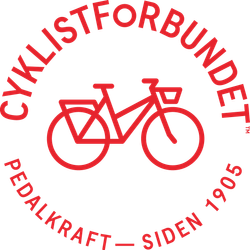 Cyklistforbundet
Rømersgade 5-7
1362 København K
Sekretariat 3332 3121 // Pressetelefon 4070 8378
http://www.cyklistforbundet.dk
At kunne cykle giver frihed, glæde og oplevelser. Vi arbejder for at gøre cyklen til det oplagte og trygge valg i hverdagen for alle og for at skabe en sundere og mere bæredygtig verden med cyklen som løftestang. Op mod 300.000 børn og voksne deltager årligt i vores aktiviteter. Vi har lokalafdelinger og repræsentanter over hele landet og er en del af paraplyorganisation European Cyclists' Federation.