What to expect of the upcoming 59th edition of CIFF in Copenhagen this August
Fast approaching an impressive 60 editions, Copenhagen International Fashion Fair has grown from regional trade fair to international fashion hub and showcase for the industry's directional and forward-thinking brands. An exciting partnership focusing on circular design and an inspirational talk program is just part of what sets the tone for CIFF 59 this August.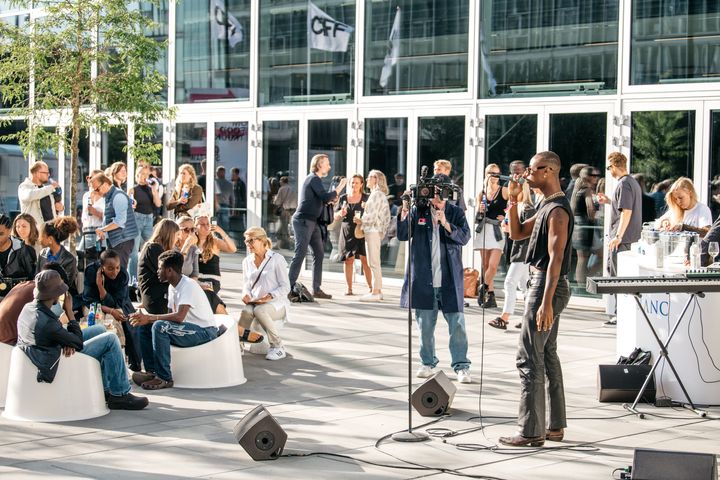 Once again, CIFF is gathering fashion brands, buyers, and leading voices at a one-stop hub for trade and visibility during Copenhagen Fashion Week August 10th through 12th 2022. Bringing together an inspirational mix of established and up-and-coming menswear and womenswear brands, the 59th edition of CIFF will cement the trade fair's position as a must-visit destination for all within the industry.
Through the introduction of digital and content platforms, sustainability initiatives, thought leadership panels, education programmes and cultural programming, CIFF have pushed the boundaries of traditional trade shows to create an industry experience which speaks to the Scandinavian values of cooperation, sustainability, and optimism as a strategy for a better future.
The registration is now open for buyers, visitors, and press alike. Simply follow this link to secure your visit to CIFF 59.
Nurturing a community:
Launched in 1993 CIFF has become a fixture on the international fashion calendar as the primary and longest running trade event for the Northern European market. Taking place twice annually, CIFF is a platform which fosters trade and cooperation within the region and the wider global market, bringing people together as an international hub for industry, creativity, commerce, education, and culture.
Especially the concept of sharing stories and knowledge is what lies at the heart of the platform, Copenhagen International Fashion Fair has been aiming to build throughout the years, if you ask director of CIFF, Christina Neustrup:

"Being born as a trade fair we are of course focused on driving a strong commercial presence for our exhibitors. But in these trying times where everyone from individuals to entire professions have experienced the importance of sticking together, commerce also becomes a question of community. That's why we want to create a fair aimed equally at connecting brands with buyers as well as connecting industry professionals with one another in a more holistic perspective."
Inspirational talks and agendas:
One of the many efforts to build a community around shared agendas comes to life through an extensive talk program with both local and international speakers taking to the stage. Several of these inspirational sessions are curated in collaboration with The Business of Fashion, who always strive to open, inform, and connect the industry.
Likewise, one of the world's leading consulting agencies for fashion trends and lifestyles, Peclers Paris, will host a series of trend talks.
Many more details about the brands, talks, and events of CIFF 59 will be presented in the coming weeks and months. You can follow the latest news and updates on LinkedIn, Instagram and by signing up for the CIFF newsletter.
Circular Fashion & Textile Days:
Following great interest in 2021, CIFF is repeating the successful partnership with Danish sustainability organization Lifestyle & Design Cluster on hosting the specific showcase 'Circular Fashion & Textile Days' comprising visionary brands working with products and solutions based on the concept of circularity.
The showcase is accessible to everyone and as part of this initiative a series of so-called 'Speaker's Circles' will be conducted inviting visitors to join guided tours of the exhibition where the brands themselves will share their stories and insights.
When and where?
CIFF 59 will take place at Bella Center Copenhagen August 2022 10th-12th 2022


Opening Hours: Wednesday and Thursday 9am-6pm, Friday 9am-4pm
Information om Bellagroup A/S

Bellagroup A/S
Center Boulevard 5
DK-2300 Copenhagen S
+45 32 52 88 11
https://bellagroup.dk/frontpage
About CIFF:

CIFF is the longest running fashion fair in northern Europe. Over the past decade, CIFF has become a major bi-annual destination for the international fashion industry. Along the way, it has evolved the trade show concept and earned the reputation for being one of Europe's most dynamic and innovative sales platforms. Results are achieved through a unique blend of curation, creative collaborations, and an unfailing effort to spot and nurture emerging design talent. 
CIFF has grown to become a fixture on the international fashion calendar hand-in-hand with the growth of Copenhagen Fashion Week and popularisation of Danish fashion across the globe. Through building a trade platform informed through Danish cultural ideals of work-life balance, enjoyment and aesthetics, the energy of the host nation and city permeate the show with Scandinavian design and modernism coming through in how each part of the show is designed.
Read more about the legacy and vision of Copenhagen International Fashion Fair and register to visit at www.ciff.dk