SDU-drones to secure property rights for Sierra Leone
Using drones, researchers from SDU are in Sierra Leone these days to measure land for registers. The World Bank has donated USD 41 million to the work, in a pilot project with Engineers Without Borders. The goal is to secure the property rights of the local population in one of the world's poorest countries, where the land has high value for plantation management and extraction of raw materials.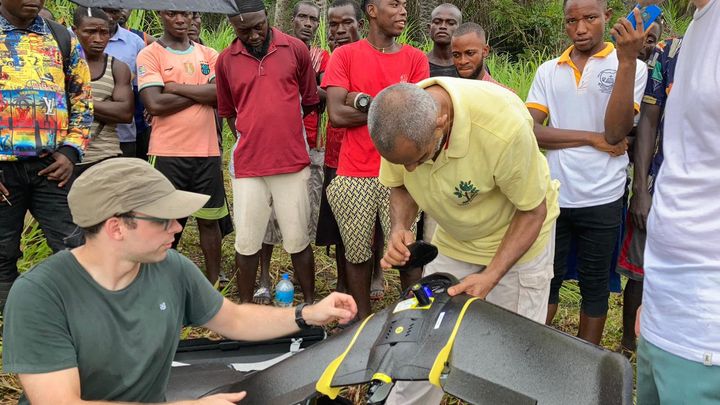 By Jakob Haugaard Christiansen
Few of us think about the deed or that our land register is part of a national database when we cut the privet hedge or put fences on the plot.
But in fact, 75 per cent of the world's population does not have access to cadastral maps or title deeds, as we know it in Denmark, where we have one of the world's best-developed mapping and property registration systems.
In one of the world's poorest countries, Sierra Leone in West Africa, parliament is trying to change this with new legislation. Danish knowledge and drone technology will now come into play to secure the local population's demands and rights over their land.

Drone testing and teaching
Drone technology from SDU can become a crucial tool in building the system in a country where, traditionally, boundaries and soil are established by tribes and chiefs. Until September 27th, two drone scientists and representatives of the Danish Engineers Without Borders (EWB) are in Freetown, Sierra Leone.
- It is a two-part project, where we will both demonstrate and test drone technology to map selected properties in a small village. At the same time we will introduce a group of engineering students to drone technology so that they can eventually handle tasks like this themselves, says Dylan Cawthorne, associate Professor and drone researcher at SDU's drone centre.
Most of the population lives below the poverty line in the country, which today has only limited mapping and surveying of the land. Knowledge and technology can help ensure that local people get paper on their land and the value it represents.
- We are one of the leading countries in the world when it comes to mapping. This project can be crucial for the democratization of the country and at the same time ensure the local ownership of their land pieces, which have a great economic value in everything from minerals and raw materials to forestry and palm plantations, says Secretary-General Dorte Lindegaard Madsen from Engineers Without Borders, who has been present in Sierra Leone since 2009.

New legislation safeguards rights
The Parliament and government of Sierra Leone have recently adopted new national legislation in this area. The World Bank has focused globally on mapping and establishing real estate sites since 2009 and has backed up with a $41 million donation. Money to ensure the construction of institutions, systems and, among other things, databases for storing the card information that may have to be delivered from drones in the future.
While the World Bank and parliament in Sierra Leone are to build a system that will ensure access to data and maps, the researchers and drone experts from SDU will go out into the field and coordinate properties with the drones.
- Normally you walk around the ground with GPS and mark the boundaries of the pieces of land with either flags or white paint. We will also make use of this so that the locals can see the markings on the drone maps we print out for them. In this way, we will ensure that there is a large degree of recognizability in the drone maps they have to deal with, says Frederik Mazur Andersen, who is an engineer at the drone centre at the Faculty of Engineering and also in Sierra Leone at the moment.


All about trust
Drones and new technology can play a crucial role in the ambitions of the World Bank with its three-digit million donations. But in a country characterized by tradition and very little use of technology, it requires a high degree of trust, emphasizes Dylan Cawthorne.
- The project is largely about trust for the locals. That piece of land is their whole life. That's where they live, where they grow their food, raise animals, and start a family. So when we introduce them to new technology, they should feel comfortable with it.
A large part of the project is about informing the local population about the project's ambitions. And the dangers that lurk when you suddenly have a title deed in your hand, says Engineers Without Borders.
- Then it is also our job to say be careful now that big companies do not come and rob you of your land and push you away. Then they lose your entire livelihood. We are very aware that we never push technologies into play in a country or area without also helping the population on how to use it and understanding the derived effects, says Secretary-General Dorte Lindegaard Madsen, EWB.
EWB collaborates with the consulting engineering companies Niras and COWI, which have donated a drone to the project. In addition, one of the two IUG representatives sent out is a former surveyor for Cowi and has many years of experience mapping in Africa.
Contacts
Jane Thoning CallesenHead of TEK CommunicationDet Tekniske Fakultet
Faculty of Engineering at the University of Southern Denmark

Tel:
93 50 75 40
jtca@tek.sdu.dk
About Syddansk Universitet

Syddansk Universitet
Campusvej 55
5230 Odense M
https://www.sdu.dk/
Facts:
As a partner in Engineers Without Borders, SDU will provide the technical knowledge and expertise when the organization, in collaboration with local NGOs from Green Scenery Sierra Leone and student associations in Sierra Leone, carries out a pilot project on the use of drones for mapping.
A team of two drone experts from SDU's drone centre and two employees from EWB-DK will travel to the West African country from 17 to 27 September. Near the town of Kalangba, a five-hour drive from the capital Freetown, two areas have been selected where the team will test drones for mapping property boundaries.
SDU researchers bring a so-called multi-rotor drone and a fixed-wing drone to Africa. The fixed-wing drone has been used for surveying in Denmark, as it has been donated to the project by the engineering company COWI.
In addition to the project with mapping properties in the country, SDU will also participate in a drone project, which deals with climate measurements during the trip.
Sierra Leone is one of the world's poorest countries and, like 75 per cent of the rest of the world's countries, does not have a property matrix, or a very small part of the country's properties registered
The funding for the project in Sierra Leone comes from the Danish Agency for Culture and CISU, Civil Society in Development, which is a Danida project.