Interim Report for 2nd quarter 2021: Solid result – execution of the Focus23 strategy progresses as planned
Columbus delivered a satisfactory result for the second quarter with progress across the business which has led to an increased focus on recruiting new talent to keep up with demand. The execution of the Focus23 strategy is progressing as planned including the implementation of a new customer-focused organization model.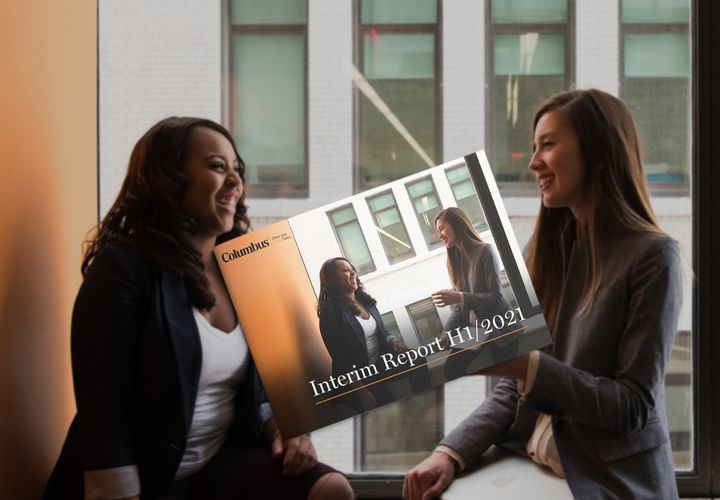 The revenue increased by 6% in Q2 2021 to DKK 426m and compensated for the decrease in revenue in the first quarter. In the first half of 2021, revenue was DKK 847m which is on par with last year (H1 2020: DKK 859m). The increase in revenue is due to high demand in all markets where especially the business areas Digital Commerce, Data & Analytics and Customer Experience delivered strong growth. Columbus' Norwegian business unit has also delivered a strong quarter.
EBITDA increased by 12% in Q2 2021 to DKK 31m, which is due to a higher utilization in the consultancy business which increased from 55% to 59%. As a result of the positive market development, Columbus is in the process of recruiting new employees for all areas of the business.
The execution of the Focus23 strategy is proceeding according to plan with reorganization of the company into global Business Units and local Market Units. The new structure entails an increased focus on customers and a simplified operation with faster decision-making.
"We are satisfied with the result for Q2 and the first 6 months overall. Columbus has reached the first milestones in executing the Focus23 strategy, comprising the re-organization of the company in a new customer focused matrix structure. It is time to unleash the full potential of our skilled employees, relevant end-to-end solutions and the increasing demand for digitalization services", says CEO and President Søren Krogh Knudsen.
Performance highlights for Q2 2021:
Revenue increased by 6% in Q2 2021 to DKK 426m (Q2 2020: 402m)
EBITDA increased by 12% in Q2 2021 to DKK 31m (Q2 2020: DKK 28m)
Profit before tax increased by 14% to DKK 13m (Q2 2020: 12m)
Customer hours increased from 55% to 59%
Extraordinary dividend pay-out of DKK 6 per share, amounting to DKK 776m in total.
Outlook for 2021
Columbus maintains outlook for 2021:
Revenue is expected to be in the range of DKK 1,650m and DKK 1,800m.
EBITDA is expected to be in the range of DKK 125m and DKK 150m.
About Columbus Global

Columbus Global
Lautrupvang 6
2750 Ballerup
https://www.columbusglobal.com/en/
Columbus is a global digital consultancy headquartered in Ballerup, Denmark. Our mission is to help ambitious companies transform, maximize, and futureproof their business digitally. Columbus employs more than 1,800 digital advisors focused on the retail & distribution, food and manufacturing industries. We offer end-to-end digital solutions like cloud, digital commerce, data & analytics and application management that help our customers run a sustainable. Columbus has offices and partners all over the world and we can deliver our solutions and services locally – on a global scale.