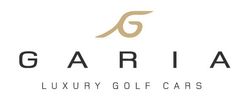 Garia's new golf model is the lightest ever in class, featuring standard integration of no-maintinance lithium batteries
Garia, the high-end golf car manufacturer that has collaborated with the likes of Mercedes-Benz Style and Mansory, has released a new Golf model that is the lightest in its class. Weighing in at just 399 kg (880 lbs.) including batteries, the new golf car results in the lowest amount of turf compaction on golf courses.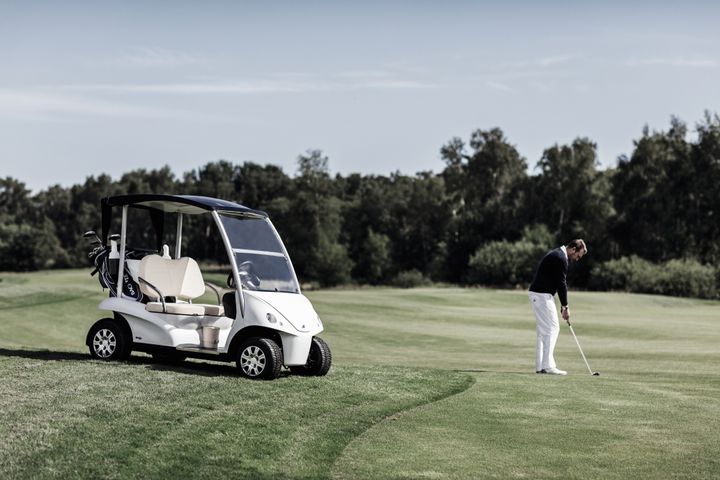 With new features such as a redesigned roof with improved water drain management, a fold down windshield, and the biggest upgrade of all: standard integration of a lithium battery, the new Garia Golf raises the bar and and takes position as "the ultimate golf car".

Garia's lithium batteries offer the benefits of no maintenance, reduced weight resulting in less turf compaction, overall lower cost of ownership, and a 5-year battery warranty.

The new Garia Golf car will be available immediately, and while it may not improve your golf score, it will most certainly give your ride on the course a boost, while being gentle on the turf.
GARIA LITHIUM SPECS:
Range: At least 3 rounds of golf
Weight: 49 kg / 99 lbs.
Life: 2000 cycles
Charge time: 6 hours
Typical Replacement: 10 years
STANDARD INTERIOR DESIGN
• GPS mount ready
• Fold down windshield
• Ice box with drain integrated into dashboard
• Storage box behind seat
• Basic cluster with battery level indicator
• Golf ball and tee holder mounted on dashboard
• 12 V outlet in dashboard
• Leather sports steering wheel with scorecard and pen holder
• Seamless bench seat, color: sand
• Double cup holders in each side with rubber grip inserts
• Speed handles in roof, foldable, both sides
• Soft-touch automotive style dashboard
• Entry panels in brushed stainless steel
STANDARD EXTERIOR DESIGN
• Lockable front bonnet with storage space
• Golf bag holders angled at 45 degrees
• New roof design with improved water drain management
• 10" steel wheels with 8-spoke hubcaps, color: metallic silver
• Piano black rear mudguards
• Deluxe light pack (Headlights, tail lights, turning signals, parking lights and high beam)
• Quality automotive paint, color: white
• Horn

TECHNICAL SPECS
• Speed: 8-30kph / 5-19mph, programmable
• Lithium batteries (lead acid optional)
• Dual-circuit hydraulic 4-wheel braking system, discs at front
• Premium E-coated chassis
• 48 V high efficient 3-phase AC motor
• Automatic parking brake

MEASUREMENTS
Overall length: 2330 mm / 92"
Overall width: 1210 mm / 48" (excl. mirrors). 1540 mm / 58" (incl. mirrors).
Overall height: 1850 mm / 73"
Weight: 399 kg. / 880 lbs.
UPGRADE YOUR G A R I A
PREMIUM PACK
• 12" rims: Gun Grey, Silver or Chrome
• Nonmetallic / Metallic paint in any of the 8 Garia color options
• Sport seat, color: Oak, Walnut or Cherry
• Refrigerator
• Premium instrument cluster built into dashboard (includes speedometer, hour meter, battery indicator)

ADDITIONAL OPTIONS
• Sport seat in Oak, Walnut or Cherry
• 12" aluminum rims: Silver, Gun Grey or Chrome
• Refrigerator
• Premium instrument Cluster
• Golf bag attachment 2+2
• Stereo with Bluetooth
• Sand bottle holder, set
• Speed switch
• Tail gate
• Weather enclosure
• Golf bag weather protection
• Car cover
• GPS roof bracket
• Floor mat, cabin
THEY SAY GOLF CART. WE SAY GOLF CAR.
For over a decade, golf carts had essentially been indistinguishable from one another, and payed little attention to the needs of the pro golfer. For a small group of Scandinavian designers, this realization became the stepping stone for the design of world's most exclusive golf car, which would soon be known as the Garia.

Though innovation, research, and an unwavering passion for design, Garia has completely reimagined the traditional golf cart. Crafted from only the highest quality automotive materials, and through the most revolutionary design in the industry, Garia creates vehicles that perform even better than they look. Recognized as much for its functionality and usability as for its modern scandinavian aesthetic, the Garia is not just your average golf cart. It's a golf car.

Founded in 2005, Garia is a privately held company headquartered in Denmark, with a subsidiary in the U.S. and sales offices in UK and Asia Pacific.
Kontakter
+45 46 570 580 | marketing@garia.com

+1 281 923 0291 | marketing@garia.com

Information om Garia A/S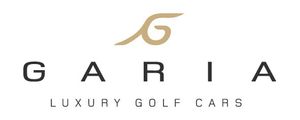 Garia A/S
Lunikvej 44
2670 Greve
46 570 580
http://www.garia.com/
Garia is the world-renowned luxury golf and leisure car manufacturer, created through a visionary innovation and development process and built from the very best materials of the automotive industry.
Garia is a privately held company, founded in 2005 - headquartered in Denmark, with a subsidiary in the U.S. and Sales offices in UK and Asia Pacific.
All Garia golf and leisure cars offer a unique combination of design, quality and passion. Fundamentally different from traditional golf carts, Garia represents a paradigm shift in the industry, created through innovation and development process. The sporty and dynamic look that challenges current golf cart conventions originates in changes to the contour of the vehicle, resulting in a dramatic overall effect, and puts the Garia in a league of 
its own.
With a Garia golf and leisure car, you can expect a unique combination of luxury details. The innovative design with great details and user-friendly solutions has been awarded with an 'Honorable Mention' in the prestigious Red Dot Design Award Competition.