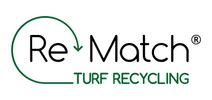 Dutch Re-Match factory building completed three months ahead of schedule
Tiel, the Netherlands, 28 March 2022 - Re-Match, a pioneer within sustainable recycling of artificial turf, has received the keys to the newly constructed factory building and will soon commence interior out-fitting with machinery and office spaces.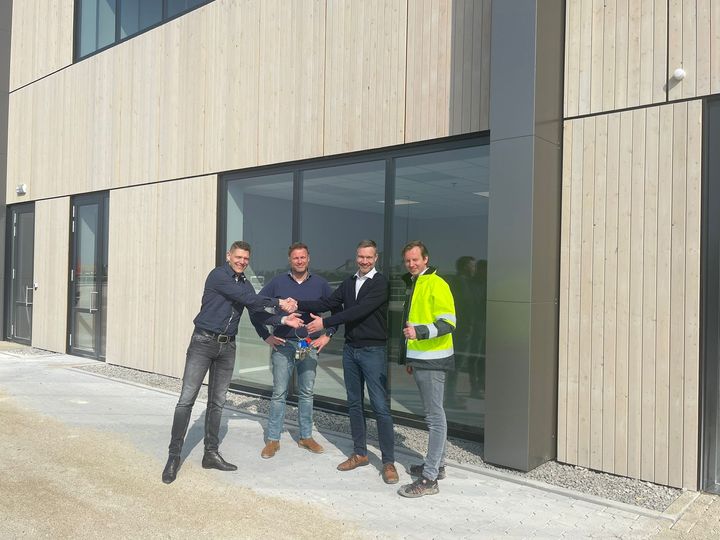 On Panovenweg in Tiel, the silhouette of a 8,800 sqm modern factory building rises against the back-drop of the Amsterdam-Rhein Canal. This will be the site of the first recycling factory in the Netherlands able to fully recycle end-of-life artificial turf pitches. On Friday 25 March, COO Jesper Skov and his team of Dutch and Danish colleagues took part in the handover of the keys for the new building from the owner, Montea and contractor, Aan de Stegge Twello.
"We are extremely pleased to get access to the building three months ahead of schedule," says Jesper Skov. "The Tiel factory is such an important milestone for Re-Match since it is the template for the next factories that we will be building over the next 10 years. The template is crucial to this plan, as it allows us to build simultaneously in multiple locations - until we have 24 Re-Match factories across the world."
The new recycling plant will be able to recycle the equivalent of more than 250 soccer pitches per year, thus avoiding alternative disposal methods such as incineration and will annually save more than 100,000 tons of CO2 in comparison. Furthermore, Re-Match's patented and certified recycling process uses no water or chemicals, and generates no pollution.
"In a time with global scarcity of building materials, I am very happy that we have already received the keys for our new factory, and want to extend my thanks to Montea and Aan de Stegge Twello who have made this possible" says Nikolaj Magne Larsen, CEO of Re-Match, "Together with the whole Re-Match team, I look forward to taking this important next step in delivering on our expansionary strategy and to cater for a rising demand for sustainable handling of end-of-life turf pitches in the Netherlands."
At Re-Match, the early handover of the new factory has only instilled further confidence in that the company will have a fully operational factory in Tiel before the end of 2022 (as per the plan laid out on p.73 of the IPO prospectus).
Images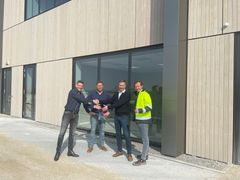 About Re-Match Holding A/S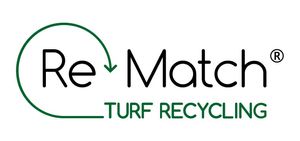 Re-Match Holding A/S
HI-Park 415
7400 Herning
7734 6734
https://www.re-match.com
Re-Match, founded in 2013 and headquartered in Denmark, is a pioneer in recycling of artificial turf pitches. With its patented technology the Herning company offers an environmentally sustainable recycling process that has received EU Environmental Technology Verification (ETV), as well as EuCertPlast. Also, the Herning factory has received ISO 9001 and 14001 certification.
By the end of 2021, Re-Match had in total recycled more than 121.000 tonnes of waste and hereof plastic fibre equivalent to 535 mill. plastic bags.

Other than its factory in Tiel, Re-Match has signed the contract for the third factory in Erstein, France and will also be building factories to the same template in Pennsylvania, USA - and in two more locations yet to be disclosed.
Re-Match is listed on Nasdaq First North Premier Growth Market in Copenhagen under the stock symbol; RMATCH.