Denmark's largest taxi headquarters to be located in Bagsværd
From September, half of Denmark's 4,000 taxis are to be dispatched from a newly established taxi headquarters in Bagsværd, just outside of Copenhagen.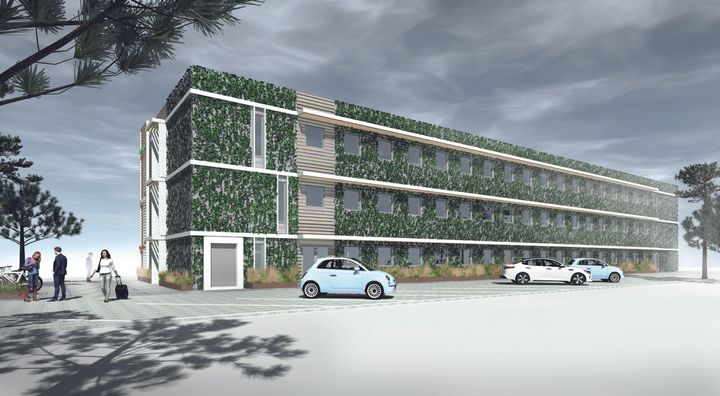 Dantaxi has, after several years of growth, grown out of the company's current headquarters in Virum. The sales and marketing department had to move to a temporary location already last year. This September, employees and departments will meet at a newly established premises on Kroghøjsvej 49 in Bagsværd.

The renter Topdanmark Ejendom have approved a complete renovation of Kroghøjsvej 49, so the property is future proofed and can contribute to Dantaxi's continued growth.

Dantaxi's CEO Carsten Aastrup explains why the company is leaving Virum after 38 years:
"It is no secret that we have always been well placed in Virum. As our company has grown over the years, we have, since 1982, had addresses in three different locations on Kongevejen. We actually have employees that are now moving workplace for the fourth time. With the move, the departments can once again assemble under the same roof, and the house is sized for a continued growth."
Started in Lyngby in 1937

The current Dantaxi came to be after a merging in 2017, where TaxiNord changed its name to Dantaxi. TaxiNord was established in 1937, under the name Lyngby Taxa. The first headquarters was in modest premises in the attic at Lyngby Torv nr. 15, and Lyngby Taxa had use of just over a handful of vehicles. In 1982, Lyngby-Holte Taxi, which had been the company's name since 1974, moved to Kongevejen in Virum. The current location is Kongevejen 135, which has been its headquarters for the past 12 years.

About Dantaxi
Denmark's largest taxi company, and since 2017, the largest taxi company in Greater Copenhagen.
.
Dantaxi is the only nationwide aggregator of taxiservices in Denmark and with 1,900 taxis associated

the company is the market leader.