Columbus delivers 23% EBITDA growth in Q2
Columbus delivers a satisfactory first half of the year despite COVID-19. In the second quarter, revenue declined by 7% which was compensated by a growth in operating profit of 23% (EBITDA). A rapid adjustment, progress in key business areas and dedicated employees have driven the results.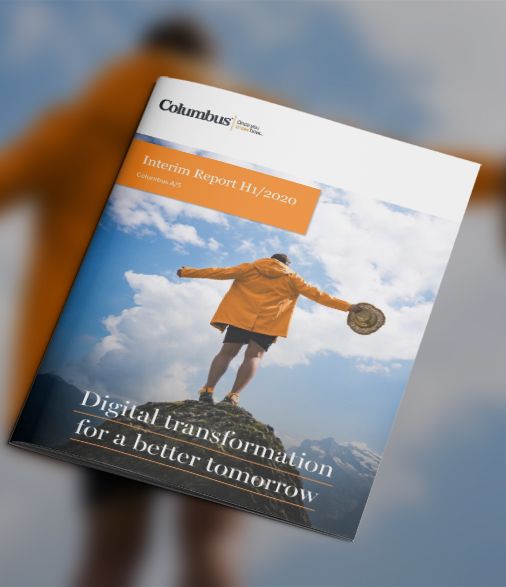 The financial statement for the first half of the year showed revenue on par with last year with a decrease of 1% (DKK 969m) and EBITDA growth of 2% (DKK 104m). Columbus is satisfied with the result, which was delivered despite the COVID-19 pandemic. In Q2 isolated, revenue decreased by 7% which was compensated by cost savings resulting in an EBITDA growth of 23%.
"I am proud that despite operating in uncertain times, we managed to deliver a Q2 with 23% EBITDA growth. I am impressed by the fighting spirit and readiness for change we have seen at our customers and internally. As a global digitalization company, we are ready to seize the digital market opportunities ahead of us", says CEO & President, Thomas Honoré.
Columbus delivered progress in key areas such as Dynamics Sweden, Columbus Care (Application Management Services) and Columbus Cloud services. At the same time, Columbus managed to adapt the business to service customers 100% remotely.
Since the outbreak of the COVID-19, Columbus has experienced customers holding back new investments due to temporary production or sales decrease as a direct consequence of the pandemic. On the other hand, there has also been an increase in the demand for cloud, e-commerce, remote working and security solutions.
"We are convinced that more companies will see the benefits of increased digitalization in more areas, such as increased productivity, work-life balance, lower costs and less carbon footprint", says Thomas Honoré.
Columbus has adapted the capacity across business segments to meet the temporary decline in demand. In addition, Columbus is monitoring resource allocation and increasing global sourcing. Columbus has also used various COVID-19 aid packages around the world and the Executive Board and the Board of Directors have reduced their salary by 30% for the remaining of 2020.
Financial highlights for Q2 2020:
Revenue declined by 7%, amounting to DKK 459m as a consequence of COVID-19
EBITDA improved by 23% to DKK 50m due to adjusted cost and capacity
Columbus Software same level as last year
Columbus Cloud services grew by 48% due to the cloud conversion
Columbus Care grew by 18%, stating the need for business stability
Recurring Revenue improved by 2% constituting 27% of revenue
Outlook for 2020
Based on the financial performance in H1, current order book and pipeline forecast, the guidance for full-year 2020 is as follows:
Revenue expected to be in the range of DKK 1.750m and DKK 1.850m.
EBITDA expected to be in the range of DKK 175m and DKK 185m.
Contacts
Communications Director
Tine Rasmussen
tra@columbusglobal.com
+45 29 69 06 77

About Columbus Global

Columbus Global
Lautrupvang 6
2750 Ballerup
https://www.columbusglobal.com/en/
Columbus is a global IT services and consulting company with more than 2,000 employees serving 5,000+ customers worldwide. Columbus helps ambitious companies to maximize, transform and futureproof their business digitally. Columbus' innovative solutions and services portfolio 9 Doors to Digital Leadership® delivers end-to-end digital solutions like cloud ERP, Digital Commerce, Data & Analytics, and Application Management that address the lifecycle and sustainability demands of the retail, distribution, food, and manufacturing industries. Columbus was founded in 1989 and is headquartered in Denmark with offices and partners all over the world, delivering solutions and services locally—on a global scale.