Audientes self-fitting hearing aid now with a significant technical boost and enhanced design.
Audientes A/S announces an improved design and enhanced technical specifications to now include the market leading NAL-NL2 fitting algorithm. A technical boost, that was planned for a later version of the company's self-fitting hearing aid, but which already now has been prioritized so that hearing aid users are given the best possible conditions to restore optimal hearing. Audientes expects to launch its first product in the Indian market in the second half of 2021.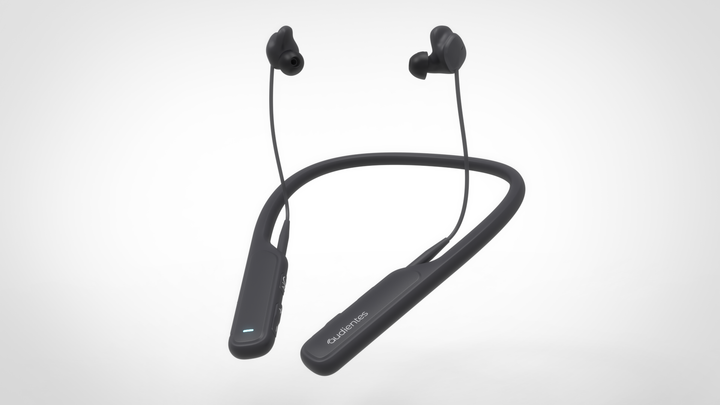 Copenhagen, 11 March 2021
Reinforced technological specifications
Enhanced design
Strengthened market offering
Audientes A/S is today announcing an enhanced product offering of its innovative self-fitting hearing aid, to be launched in 2H 2021, with extended technical specifications and an improved device design that will significantly strengthen the product offering among consumers, industry professionals and prospective channel partners in the global over-the-counter (OTC) market.
With a focus on providing consumers with a premium, quality product, Audientes has extended the device technical specifications to now include the best-in-class NAL-NL2 fitting algorithm, Active Noise Cancelling (ANC) technology and 18 processing channels, thus further improving the customer experience.
In terms of design, and with a spotlight on user comfort and wearability, the self-fitting hearing aid has now been further enhanced with ergonomically enhanced earbuds, a lighter, sleeker neckband and a more accessible integration of the user controls on the main unit. Essentially, the product has become more comfortable to wear and the design has become more elegant.
A game-changer in the market
"These additional unique technical capabilities, coupled with the design enhancements, are a game changer for us in the market and only improve our ability to position ourselves strongly in the upcoming product launch," says Audientes CEO, Steen Thygesen. "The self-fitting solution has always been our core strength but adding a top-of-the-range, fitting algorithm such as the NAL-NL-2, takes us to another level of value offering in terms of helping our customers restore optimal hearing. To put it simply, it means that we have significantly improved our chances in the market for OTC hearing aids, for e.g. in the US, which is expected to become a reality later in 2021 when the legislation is in place."
The NAL-NL2 algorithm, developed by the National Acoustic Laboratories (NAL) of Sydney, Australia is the de-facto standard fitting algorithm used by audiologists for hearing aid fittings and is used to fit more hearing aids than any other software around the world. The non-linear hearing aid fitting software, which is used today for prescription fitting of hearing aids, maximizes speech intelligibility for hearing aid users, while keeping the overall loudness of speech at or below normal loudness.
Strengthens Audientes in the OTC market
The NAL-NL2 best-in-class algorithm not only strengthens the position of the Audientes product in the over-the-counter (OTC) market, it also paves the way for strong product adoption amongst professionals and prospective channel partners. By incorporating this industry-standard fitting capability, Audientes is enabling hearing professionals to better serve a massive and so-far untapped market of millions of people with disabling hearing loss who are looking for a quality solution that they can afford. In the United States alone, there are 30 million people disabling hearing loss, and 75 million in India.
With launch slated for later this year, the Audientes device will also include Pure Tone Audiometry (PTA), Program definition and selection, Music/TV sound streaming, Bluetooth Wireless 5.2wireless communication with smartphone and app, as well as built-in rechargeable batteries.
Audientes will share more information in its upcoming Annual Report on 18th March.
About Audientes A/S

Audientes A/S
Teknikerbyen 5, 2.
2830 Virum
77 34 16 80
https://www.audientes.com/
About Audientes A/S
Audientes' goal is to make smart, self-fitting and high-quality hearing aids accessible and affordable to everyone who needs them. We achieve this by designing, developing and bringing to market innovative assisted-hearing solutions. Today, 500 million people suffer from disabling hearing loss. By 2050, that number is estimated to reach 700 million. We aim to address this global health challenge by bringing our affordable and self-fitting binaural hearing aid to the millions of hearing-impaired people around the world who need it.
Audientes A/S is traded on Nasdaq First North Growth Market Denmark under the symbol "AUDNTS" and ISIN DK0061406618.
For additional information about Audientes financial position and development, please refer to the Company's website (www.audientes.com).
Audientes A/S
Teknikerbyen 5
2830 Virum
Denmark
About NAL
The National Acoustic Laboratories (NAL) is the research division of Hearing Australia. Since 1947, NAL's research into hearing has opened new ways in which people with hearing problems can be helped. NAL's mission is to lead the world in hearing research and evidence-based innovation to improve hearing health and transform the lives of people with hearing difficulties.
For more information about NAL, see their website: https://www.nal.gov.au/
Tim Gainsford
Operations and Finance Manager, NAL
National Acoustic Laboratories
+61 2 9412 6862
+61 0423 290 284
tim.gainsford@nal.gov.au
Subscribe to releases from Audientes A/S
Subscribe to all the latest releases from Audientes A/S by registering your e-mail address below. You can unsubscribe at any time.
Latest releases from Audientes A/S
In our pressroom you can read all our latest releases, find our press contacts, images, documents and other relevant information about us.
Visit our pressroom