Audientes opens up for online pre-ordering in India and enters into cooperation agreement with eShopBox in India
Audientes announces today that it is now open for pre-ordering online in India and that it has entered into a collaboration with ecommerce fulfilment provider, eShopBox for the sale and fulfilment of Audientes' self-fitting hearing aids on ecommerce channels in India, including Audientes.in and later Amazon.in and FlipKart.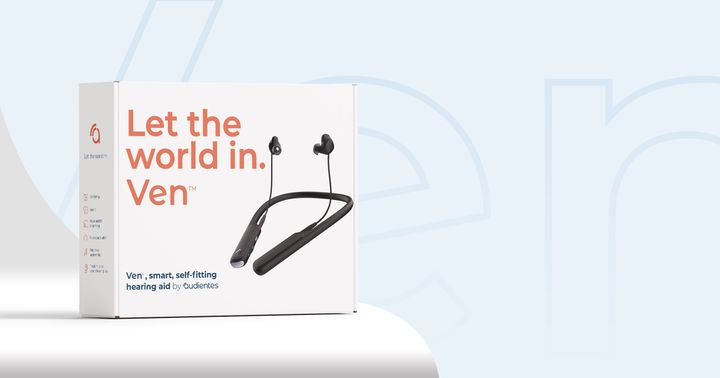 Consumers in India and elsewhere in the world can now pre-order Audientes' hearing aid product, Ven™ for delivery in India. Audientes has entered into a partnership with eShopBox. This partnership makes it easy for Audientes to scale sales from multiple etail-platforms in India and ensures fast delivery to Indian consumers through their nationwide fulfillment centers.
eShopBox - a recognized partner helping brands scale in the Indian market
"In accordance with our ecommerce strategy and roll-out plan in India, we are excited to be partnering with eShopBox, an established organization with over seven years of expertise in ecommerce in India. A recognized ecommerce enabler, eShopBox has helped countless known brands scale in the Indian market, and we are very much looking forward to collaborating with them," says Steen Thygesen, CEO, Audientes A/S.
The Indian market is the world's second largest ecommerce market with an ecommerce value of USD 84 billion and approximately 329 million active ecommerce buyers in 2021. The market is under rapid expansion with a yearly growth rate of 25-30% and an exploding market growth in e-healthcare, estimated at USD 2.7 billion in 2023, and e-pharmacy, estimated at USD 16 billiion in 2023.
A perfect candidate for online sales
Mr. Gautan Raheja, Chief Marketing Officer, eShopBox comments; "Ecommerce in India has seen rapid development in recent years, a trend that is expected to continue as the number of people shopping online grows. This year alone, there were over 300 million ecommerce buyers, which is massive when you consider that there is only 50% internet penetration here. We are delighted to be part of Audientes' journey to roll out Ven to the Indian ecommerce market."
Supporting Audientes ecommerce strategy
The agreement with eShopBox and the launch of Audientes' online ecommerce platform is an important step in the company's global ecommerce strategy, paving the way for future launches of online ecommerce platforms in additional countries, including the US and further markets in Asia. Audientes' will initially only sell and ship its products and accessories to customers with delivery address in India, but can bill buyers worldwide. In the future, additional countries will be added gradually.
Robust platform for global ecommerce now launched
Moreover, Audientes has now implemented a versatile and robust global ecommerce platform with an emphasis on the consumer experience and modeled on a globally recognized order flow. The platform has integrated multi-language and multi-currency with amalgamation to more than 100 payment providers around the world. It is also readied for easy integration to multiple fulfilment centers in varying countries and comes unified to global courier services for international shipping. From a consumer standpoint, it is combined with customer care for a coherent customer experience with a focus on providing the best possible support and service to customers. For Audientes, this means easy "copy & drop" roll out country-by-country as we enter new locales in the coming years.
Contacts
For further information, please contact:

Steen Thygesen, CEO, Audientes A/S
Phone: +45 53 17 26 10
Email: st@audientes.com

Raman PV Rao, Country Head, Audientes India Pvt. Ltd.
Phone: + 91 91770 49678
Email: rr@audientes.com

Gautam Raheja, Chief Marketing Officer, eShopBox E-commerce Pvt. Ltd.
Phone: + 91 9711110610
Email: gautam@eshopbox.com

About Audientes A/S

Audientes A/S
Teknikerbyen 5, 2.
2830 Virum, Denmark
+45 77 34 16 80
https://www.audientes.com/
About Audientes A/S
Audientes A/S is a technology company specializing in smart, self-fitting and affordable hearing aids. Audientes' unique hearing aid solution, Ven™, is in the process of being rolled out in the Indian market, before being introduced to the US OTC marked and other markets thereafter. Audientes mission is to help the 400 million people globally suffering from disabling hearing loss who cannot afford to buy one of the very expensive conventional hearing aids on the market. Audientes is headquartered in Copenhagen and has a subsidiary in Hyderabad, India. In 2020 the company was listed on Nasdaq First North Growth Market Denmark (Ticker: AUDNTS).
For additional information please refer to the companys' websites: www.audientes.com or www.audientes.in.

About eShopBox
Eshopbox is an all-in-one e-commerce logistics platform using modern software to provide fast and affordable fulfilment. Brands of all sizes — use Eshopbox's full-service solution to store inventory at warehouses near their customers and ship orders with the Eshopbox carrier network to improve transit times and shipping costs. Eshopbox's deep integration with sales channels enables brands to earn prime-like badges to accelerate their sales.
For additional information please refer to the company's website:
www.eshopbox.com