Annual Report 2020: Satisfying result in a challenging year
Today, Columbus has published the annual report for 2020 - a year where the company demonstrated the ability to act in the changing market conditions. Revenue decreased by 6% but with a rapid adjustment of the cost base, its was possible to increase normalized EBITDA margin to 7.3%. 2020 was also the year, where we launched our new growth strategy, Focus23. The new strategy focuses on digital advisory of larger customers in key markets and consequently it was decided to divest the software company To-Increase and the Private Cloud business.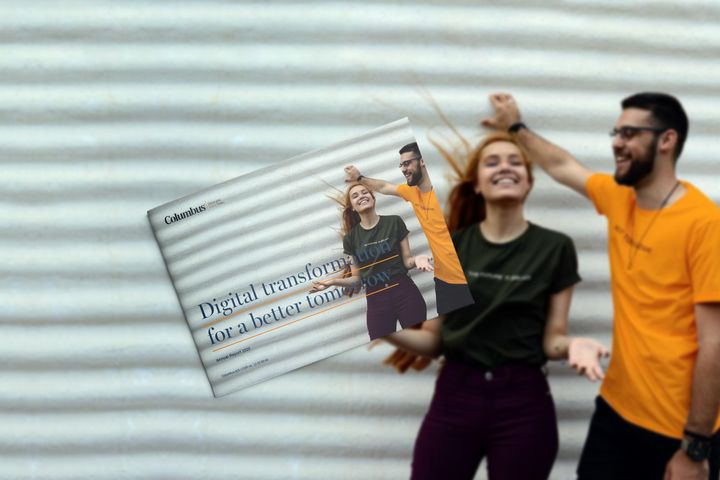 Despite the global pandemic, Columbus delivered a 2020 result in line with expectations. We are pleased with the results, especially seen in the light of the improved normalized EBITDA margin to 7.3%. Our Dynamics Sweden business and our Norwegian subsidiary have shown significant growth in 2020, and in addition Cloud services and Columbus Care have also shown progress. The launch of our new strategy, Focus23, was an important milestone in 2020, and the adaption of the business with, among others things the divestment of To-Increase was the first step towards simplifying the business with a great focus on advisory of larger customers. During Q4 2020, we saw an increase in revenue and look forward to an exciting and more normal 2021", says Chairman of the Board, Ib Kunøe.
Group revenue declined by 6% in 2020 compared to 2019, however covers a positive development in several areas where among other things, cloud revenue grew by 41%, Columbus Care grew by 12% and recurring revenue grew by 4%. Normalized EBITDA declined by 7%, while normalized EBITDA margin increased from 7.1% to 7.3%.
The divestment of the software company To-Increase impacts corporate equity by approximately DKK 671m. In addition, Columbus divested its Private Cloud business in line with the desire to simplify the business and focus on digital advisory for larger customers in key markets. With Focus23, Columbus will unleash the full growth potential and gradually increase organic growth to a minimum 10% annually from 2023.
New CEO for Columbus will be announced in near future

Columbus' Board of Directors is in process of finalizing the recruitment of the company's future CEO and will in the near future announce the leader of Columbus' continued development.
Performance highlights for 2020:
Reported revenue declined by 6%, amounting to DKK 1,655m mainly due Covid-19
Columbus Care grew by 12% to DKK 152m
Cloud Services grew by 41% to DKK 59m, due to continued cloud conversion
Recurring Revenue improved by 4%, constituting 25% of revenue
Normalized EBITDA declined by 7% to DKK 117m, and normalized EBITDA margin increased by 2% to 7.3%
Profit after tax increased from DKK -18m to DKK 55m
Other highlights
Focus and simplicity:
New strategy, Focus23, launched 12 November 2020
To-Increase software business sale completed for a price (Enterprise Value) of EUR 113m
Divestment of Columbus' private cloud business ​
Closing of Spanish entity
Outlook for 2021
Based on the financial performance in 2020, current order book and pipeline forecast, our full year guidance for 2021 for the continued business is as follows:
Revenue is expected to be in the range of DKK 1,650m and DKK 1,800m.
EBITDA is expected to be in the range of DKK 125m and DKK 150m.
Related links:
Information om Columbus Global

Columbus Global
Lautrupvang 6
2750 Ballerup
https://www.columbusglobal.com/en/
Columbus is a global digital consultancy headquartered in Ballerup, Denmark. Our mission is to help ambitious companies transform, maximize, and futureproof their business digitally. Columbus employs more than 1,800 digital advisors focused on the retail & distribution, food and manufacturing industries. We offer end-to-end digital solutions like cloud, digital commerce, data & analytics and application management that help our customers run a sustainable. Columbus has offices and partners all over the world and we can deliver our solutions and services locally – on a global scale.