Ukraine House in Denmark launched a new exhibition "Brave to Witness: Ukrainian War Diaries"
Ukraine House in Denmark launched a new multi-disciplinary project "Brave to Witness: Ukrainian War Diaries''. The exhibition showcasing visual diaries by prominent Ukrainian artists chronicling Russia's on-going war against Ukraine was opened in honor of the Ukrainian Independence Day and gathered many friends of Ukraine House in Denmark including politicians, diplomats, journalists, artists.
Our guests enjoyed the curator tour around the exhibition by Kateryna Stukalova and Olga Zhuk. Also we were honored to host a prominent Ukrainian pianist Antonii Baryshevskyi, whose visit was organized by our partner Nielsen Saloner.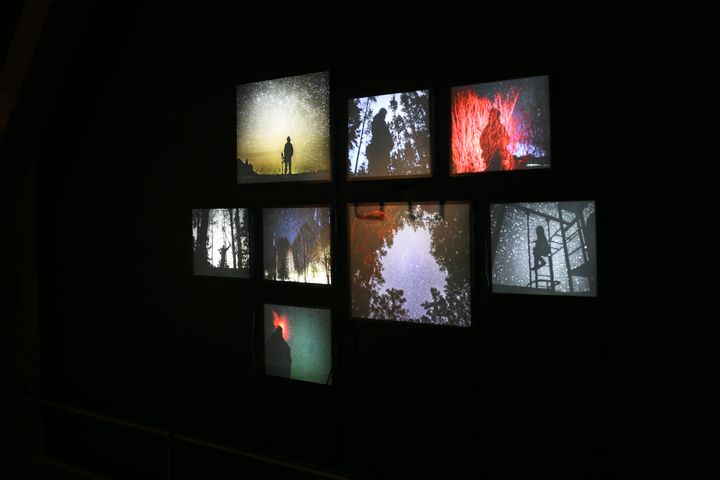 Opening the exhibition, chairperson of Ukraine House in Denmark Nataliia Popovych reminded that 24th of August marks not only the 32nd anniversary of Ukraine's regaining of independence but also 18 months since the full-scale invasion of Ukraine. In these long months for Ukraine, the Russian forces have relentlessly struck Ukrainian territories, unleashing over 6,500 missiles and deploying more than 3,500 drones. The impact on the people of Ukraine and Ukrainian culture has been the worst.
Over 100 000 war crimes have been committed against the Ukrainian people and over 1500 objects of cultural significance have been destroyed.
"The brutality of russian war crimes in the past while attempting to wipe out the Ukrainian culture often made the Ukrainian victims speechless. The inconceivable level of cruelty applied to Ukrainian civilians, as exposed by the Ukrainian towns who were later liberated from the russian occupation now often also freezes and disables the timely reaction of Ukraine's western partners. It is difficult to believe that genocide, culturecide and ecocide can be happening all at the same time in the 21st century in the heart of Europe.
But this is precisely why it is so important to preserve, showcase and learn from the documentary work of those brave enough to speak up and strong enough to witness the experience of this war. The genre of the war diaries also tells us that every day of the war brings us closer to victory", Nataliia Popovych said.
The Ambassador of Ukraine Mykhailo Vydoynyk thanked Denmark for the latest decision to give Ukraine F-16 jets and the Ukrainian army for their heroic efforts to defend freedom from russian aggression.
"Despite everything which my country now goes through, all these horrible killings, destructions, rapings, war crimes… we are Ukrainians and we are proud of being an independent state. And this is the reason why we are fighting, because we want to preserve this independence" – the Ambassador underlined.
Henriette Borg Reinholt, Regional director for DCI activities in the Eastern Partnership countries agreed that this war is not only for territories but also a fight for Ukrainians to have their own identity and their freedom. She is absolutely sure that russian imperialism can't win in the 21st century.
"I think the world has come to know and love the unique Ukrainian culture, which we might not have been aware of before. We saw it very clearly from the beginning of the war with the people singing on the bombardments, waiting in the metros… We really need to continue to support Ukrainian culture. Otherwise what would there be to fight for? Ukraine House in Denmark has put a huge effort and a lot of dedicated work into showing Denmark what Ukrainian culture is about. DCI definitely continues to support, and I can only encourage others to support it in any possible way", Henriette Borg Reinholt said.
Representing the exhibition, curators explained that it was made with the assistance from Mystetskyi Arsenal's wartime art archive project "Ukraine Ablaze" and Museum of Contemporary Art (MOCA), Ukraine. Ukraine House in Denmark is proud to collaborate with these initiatives to emphasize the importance of the memorialization and archiving of contemporary Ukrainian art.
"Wartime diaries are a powerful tool for witnessing, coping and reflecting. In the past, they have served as evidence of war crimes that helped bring perpetrators to justice, and as important instruments to raise awareness and educate future generations. Perpetually, they are an essential part of cultural discourses and play an immense role in shaping historical and political narratives both during a war as well as in postwar reflections and studies. Just as importantly, they play a therapeutic role in the lives of their authors, helping them resist a kind of 'time collapse' — the feeling that the war is a single, endless day", Kateryna Stukalova, curator of visual culture and contemporary art projects at Ukraine House in Denmark said.
Olha Zhuk, co-curator of the exhibition and the deputy director of Mystetskyi Arsenal recalled that right after the full scale invasion some artists could not create anything and were not sure if they can influence anything with their job. But then they understood if they don't speak up, if the artists don't raise their voice, this war will be very quickly forgotten.
"The value of this exhibition is that it gives a very personal reading and view of the events. It's everyday little stories, but connected also to what you see in the media. So it's very important everyday to fix what's going on, to reflect on it and to show your own voice", she said.
The diaries are presented in various mediums to amplify their impact and encourage audience interaction. As such, attendees have the opportunity to engage with the experiences documented by the diaries' authors through original sketchbooks, pages from the diaries printed in large formats, pages presented as light boxes, projections, and touchscreens.
Participants: Vlada Ralko, Inga Levi, Viktoriia Rozentsveih, Alevtina Kakhidze, Gera Artemova, Kostiantyn Polishchuk, Mykyta Lyskov, Daniil Nemyrovsky, Antonina Semenova, Dariia Molokoiedova, Ian Spektor and others.
The address of the exhibition: Gammel Dok, Strandgade 27B, 1401 København.
Current opening hours are:
Tuesday – Friday, 16:00 – 19:00
Saturday – Sunday, 12:00 – 18:00
For more information, please contact us press@ukrainehouse.dk
Photos by Farid Seifulin, Maya Zakhovaiko
Billeder