UROPA – An Asylum-Seekers Ballet
UROPA is a contemporary performance piece mixing refugees and ballet, where asylum seekers take over the Royal Danish Ballet to tell their stories, in this co-production between the Royal Danish Ballet's dance lab Corpus and the Copenhagen-based theatre Sort/Hvid. Already sold out for more than a week before its premiere on the 29th of January, UROPA – An Asylum-Seekers Ballet will be performed at the Royal Danish Theatre in Copenhagen, Aarhus Theatre and Gram Castle, close to the Danish/German border.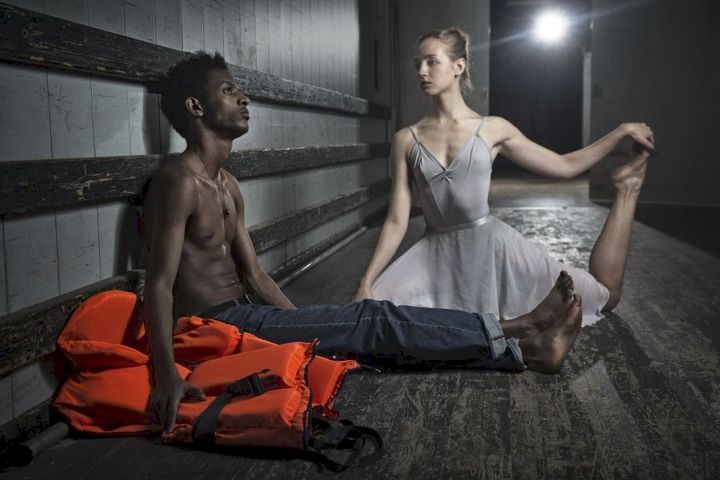 Europe is facing the largest flood of refugees in recent history, placing laws, conventions and human rights under pressure. In Copenhagen, a group of asylum seekers has been provided with a stage, dancers, musicians and costumes and asked to create a performance based on their life, current situation, and thoughts on their future. They direct dancers and musicians from the Royal Ballet and each other within a range of styles to tell their personal stories.
"We talk a lot about refugees and the media displays tons of pictures of refugees, both in Denmark, as well as, the rest of Europe. If you are left-wing you may see them as destitute victims, where if you are right-wing, you may look at them as criminals, who have come to steal from our wealthy society. From an overall perspective, it is interesting to see how refugees came to be and how they actually see their own situation," says director Christian Lollike.
In autumn 2015, the Royal Danish Theatre invited 10 asylum seekers to dramatize their experiences of being refugees. Now, few months later, there are only seven left. Two have had their applications rejected in the process and one has gone into hiding. There is also one who has been arrested and expelled from the country, but still participates through Skype. The remaining six are from Syria, Pakistan, Eritrea, Myanmar and Uganda. In UROPA – An Asylum-Seekers Ballet, they speak about their fears, their desires and dreams.
"We talk all the time about how we see refugees. But how do we appear to them?" says choreographer Tim Matiakis, while explaining the background to the performance created between Corpus/Royal Danish Ballet and the Copenhagen-based Sort/Hvid.
UROPA – An Asylum-Seekers Ballet will be performed in English and will open on January the 29th, 2016. Due to the popularity, there will be extra performances from the 16th–20th of February at the Royal Danish Theatre in Copenhagen.
The team behind IN CONTACT – A War Ballet received the Danish Reumert Award for Best Dance Performance in 2015. In 2016, Corpus and Sort/Hvid examine the current asylum issue.
PERIOD
29.01.2016-14.02.2016, The Danish Royal Theatre in Copenhagen, Denmark
TOUR
02.02.2016-03.02.2016 at 19.30, Aarhus Theatre, Denmark
04.02.2016-05.02.2016, Gram Castle, Denmark
EXTRA PERFORMANCES
16.02.2016-20.02.2016, The Danish Royal Theatre in Copenhagen, Denmark
Concept CORPUS and SORT/HVID 
Director CHRISTIAN LOLLIKE 
Choreography ESTHER LEE WILKINSON and TIM MATIAKIS 
Text PETER CLEMENT WOETMANN, SOLVEIG GADE and CHRISTIAN LOLLIKE IN COLLABORATION WITH THE PERFORMERS 
Dramaturge SOLVEIG GADE 
Music MIKKEL HESS 
Photo SØREN SOLKÆR 
Co-production between CORPUS / THE DANISH ROYAL BALLET and SORT/HVID
Cast SAMSON SEMERE RUSSOM, NAY ZAR HLA TIN, MUHAMMAD ALI ISHAQ, ELIAN YAAKOB DAWOOD, SALAM MOHAMAD SUSU, JESSICA BRENDA NAKIMULI and through Skype MAHYAR POURHESABI 
Dancers ALICE CANU, VIKTORIA FALCK-SCHMIDT, LOUISE ØSTERGAARD, BENJAMIN BUZA and ALEXANDER STÆGER 
Musician MIKKEL HESS
Information om Det Kongelige Teater