Ukraine House in Denmark opens in Copenhagen
Ukraine House in Denmark officially opened its doors in the heart of Copenhagen – Gammel Dok on the waterfront in the Christianshavn neighbourhood. From now this beautiful historical building is an informal cultural embassy of Ukraine for an international dialogue and introducing Ukrainian culture in Denmark.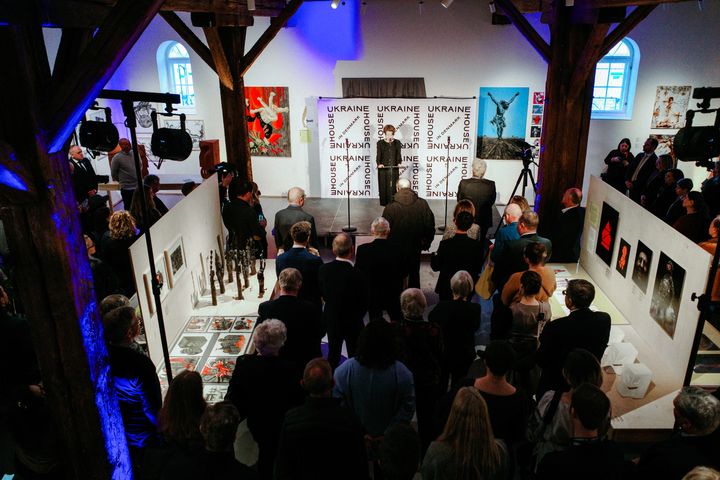 Since February 24th, the day of the opening, over 800 guests have visited Ukraine House, including diplomats, journalists, gallerists, bloggers, leaders of cultural institutions, both Ukrainians and Danes alike.
"I truly hope that Ukraine House in Denmark will further strengthen the cultural bonds and friendship between our two countries. It is also my hope that this will be a house where you can express your innermost thoughts and feelings about art, about culture and about being here in Denmark, far away from home. And that Ukraine House will be a place where you celebrate Ukrainian culture and the will to thrive and to fight against the oppressors. Because the preservation of art is crucial for the soul of a nation," says Jakob Engel-Schmidt, the Minister of Culture of Denmark at the opening.
The chairperson of Ukraine House in Denmark Nataliia Popovych reminded that Russia started a war in Ukraine 9 years ago and it is not for territories, economic gains or influence. It is the war for the identity of millions of Ukrainians, who want to live in a free and a democratic society.
"I cannot thank our partners in Denmark enough for the opportunity to have our voice heard when Russia is trying to silence it. To be able to say "we exist" when Russia is trying to destroy thousands of our cultural monuments, to deny us and our children our right to existence. We cannot find a better way to commemorate the bitter anniversary of the full scale invasion than by opening our cultural residence in Copenhagen," says Nataliia Popovych.
Ambassador of Ukraine to the Kingdom of Denmark, Mykhailo Vydoinyk emphasized:
"What is the first thing Russians do when they occupy territories? They burn Ukrainian books, they introduce the Russian school education system, they send Russian teachers to the schools, they destroy Ukrainian monuments… We have to do our best to preserve Ukrainian culture because it is a piece of us, it's our identity" - said ambassador of Ukraine in Denmark, Mykhailo Vydoinyk, during his speech at the opening.
Symbolically Ukraine House in Denmark kicks off with an art exhibition "The muses are not silent" that includes over a hundred paintings, sculptures, architecture, and video art created during the war by more than fifty artists from all over Ukraine. It is the first abroad presentation of the exhibition curated by Pavlo Gudimov, Ukrainian curator, in Lviv, brought to Copenhagen specifically for the opening of the Ukraine House.
"The muses are not silent" is a twist on a well-known saying that goes: "When the cannons are heard, the muses are silent." The artists reacted to the full-scale Russian invasion immediately – in the exhibition, Ukrainian painters, designers, architects, and creatives are expressing and reflecting on the war, the future of Ukraine and the world through many new works.
"The war is always a tragedy, the war is always a chance for reloading, the war is always resurrection. "The muses are not silent" is not just an exhibition. It's an attempt to understand the creativity during the catastrophe. We introduce the artists from different parts of Ukraine. They are from different generations and work with various topics and techniques. However they all find a language to communicate with us," said Pavlo Gudimov.
One of the most important missions of Ukraine House in Denmark as a cultural institution is a dialogue between Ukrainian and Danish professional communities and civil societies. The first such dialogue took place during the first panel discussion we held in our premises, featuring Dr Serhii Plohii (director of Harvard Ukrainian Research Institute), Dr Frederic Rosen (director of the Nordic center for Cultural Heritage and Armed Conflicts), Julie Arnfred Bojesen (director of Ukrainian-Danish Youth House), Nataliia Popovych (chairperson of Ukraine House in Denmark) moderated by Charlotte Flindt Pedersen (director of The Danish Foreign Policy Society).
"This war has been more about culture than maybe most of the wars we have witnessed or read about in history books. Putin's pseudo history articles and speeches state one theme – that Russians and Ukrainians are the same people. Which in his mind means that Ukraine as a culture, a nation, an identity, and a unique history does not have any rights to exist… Putin who attacked Ukraine in 2022 believed that he attacked Ukraine-2014 when in reality the war which started in 2014 produced in a record time a very different Ukraine. With much more solid identity, with much more readiness to defend yourself, to defend your state, to defend your culture. And that big transformation was actually missed by Putin," explained Dr Serhii Plohii.
The discussion covered the importance of culture in national security strategies, development of effective policies to protect cultural heritage during wars, and particularly the phenomena of the blossoming of Ukrainian culture and patriotism and what it means for democratic future of Europe. Our premises will continue to serve as a platform for open discussions between Danish, Ukrainian and European thinkers.
Ukraine House in Denmark open everyday besides Monday:
Tuesday-Friday: 16.00-19.00
Saturday-Sunday: 12.00-18.00
The entry to "The muses are not silent exhibition": 50 DKK; free for Ukrainian refugees and children under 16.
It will be open till 21st of May 2023.
Address: Strandgade 27B, Copenhagen
Social media:
Our partners:
Ministry of Culture of Denmark
Danish Cultural Institute
Embassy of Ukraine in Denmark
Danish Foreign Policy Society
Wisti Foundation
Schulz J. & Goll
Tage Andersen
Tableau
Images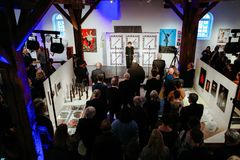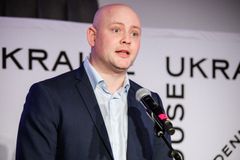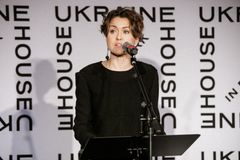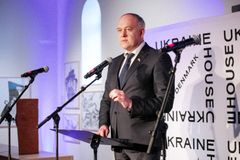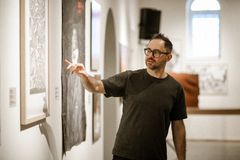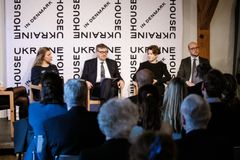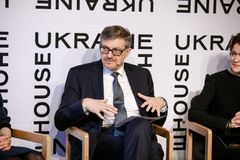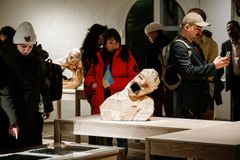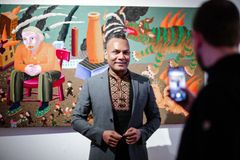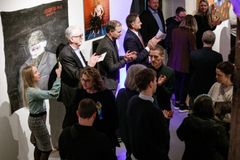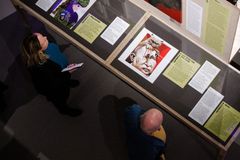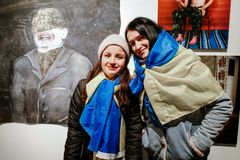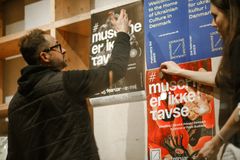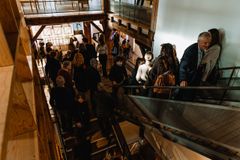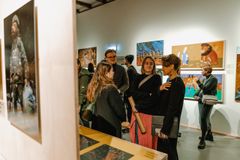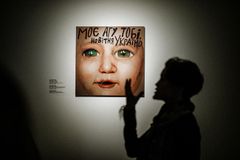 About Ukraine House in Denmark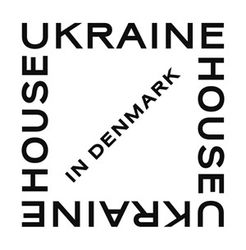 Ukraine House in Denmark
Gammel Dok, Strandgade 27B
1401 København
http://ukrainehouse.dk
The Ukraine House in Denmark is a civil society organisation of Ukrainian cultural diplomacy based in Copenhagen. Its mission is to form an enduring positive influence of Ukraine on Ukrainian-Danish cooperation, security, and lasting peace in Europe.