STARK Suomi enhances its level of customer service
The craftsmen in and around Helsinki can look forward to an improved customer experience with the opening of STARK Suomi's new and modern flagship store in the Helsinki metropolitan area. The branch is built from a customer perspective focusing on digitalisation and having "everything under one roof" in order to provide the most efficient customer journey. As part of the construction, STARK Suomi's new headquarters is located on top of the branch.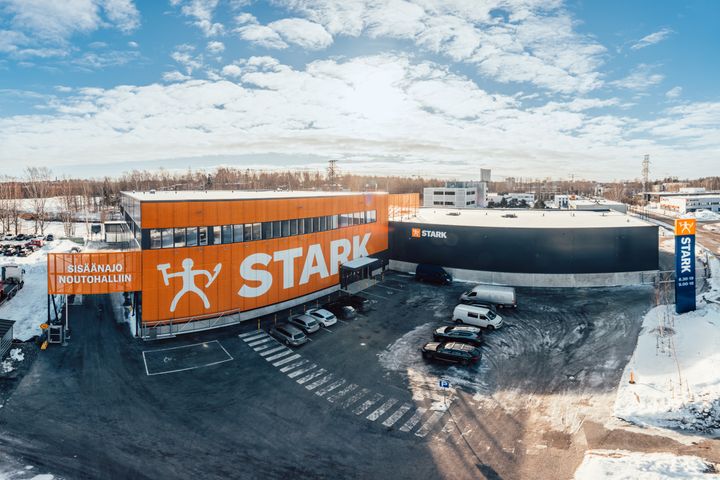 Since 2020, STARK Suomi has strengthened its branch network and has now 27 branches across Finland, including three Nonstop 24/7 branches in Helsinki, Oulu and Tampere, with a fourth opening later this month.
"The area in and around Helsinki is a very important area to us. We want to serve the builders in the best way possible and even more extensively. The construction of the new branch in Espoo is an important step in strengthening our service, and I believe it will further raise the level of service for professional builders in the Helsinki metropolitan area," says Harri Päiväniemi, CEO of STARK Suomi.
The new STARK branch in Olari, Espoo, was constructed by Jatke Oy.
About STARK Group

STARK Group
C. F. Richs Vej 115
2000 Frederiksberg
+45 8252 2600
https://starkgroup.dk
STARK Group is a leading business-to-business distributor of heavy building materials for the construction industry in the Nordics and Germany, with a strategic focus on serving the professional builders.
STARK Group has revenue of approx. EUR 5 billion and serves c. 10,000 suppliers and 260,000 customers from its +485 locations. Headquartered in Denmark, STARK Group has approx. 11,700 employees in Germany, Denmark, Sweden, Finland, and Norway. The Group has doubled in size over the last couple of years through acquisitions and organic growth, and today, it holds a leading national or regional position in all markets.