STARK Group's branch in Nacka awarded builders' merchant of the year in Sweden
Beijer Byggmaterial's branch in Nacka has been awarded builders' merchant of the year. An award that is given to a builders' merchant that, through its work with sustainability, motivates and inspires others in the industry. The award was presented by the Association of Swedish Building Materials Merchants.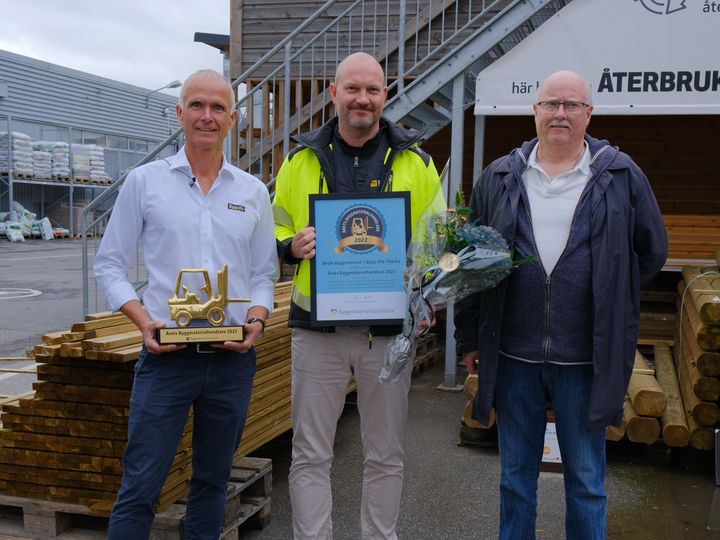 Beijer has won the award for its strategic partnership with Nacka vatten och avfall to recycle building materials. Together they have created a circular flow for wood, where customers can leave their wood at the recycling station. Beijer then takes care of the materials and ensures that what can be reused is sold as recycled wood to customers instead of going to waste.
Head of Sustainability at Beijer Byggmaterial, Alexandra Rosenkvist says:
"For Beijer, it is obvious that recycled building materials are part of the future of construction. We continuously work to find circular concepts, something that is strongly needed in the new environmental certifications of buildings that are underway. We are counting on our customers to join us on this journey, and we are already seeing that there is an interest in circular solutions."
The purpose of the award is to draw attention to a builders' merchant who leads as an example for the industry from a sustainability, digitalisation or attractiveness perspective. Byggmaterialhandlarna, who presented the award, wants to highlight good examples that create inspiration and motivation for others in the industry. More than 30 companies were nominated before the summer, and the jury, which consists of The Association of Swedish Building Materials Merchants, appointed five finalists. Since then, almost 1,300 people have voted for the winner of the award.
About STARK Group

STARK Group
C. F. Richs Vej 115
2000 Frederiksberg
+45 8252 2600
https://starkgroup.dk
STARK Group is a leading business-to-business distributor of heavy building materials for the construction industry in the Nordics and Germany, with a strategic focus on serving the professional builders.
STARK Group has a revenue of approx. EUR 5 billion and serves c. 10,000 suppliers and 260,000 customers from its +485 locations. Headquartered in Denmark, STARK Group has approx. 11,700 employees in Germany, Denmark, Sweden, Finland, and Norway. The Group has doubled in size over the last couple of years through acquisitions and organic growth, and today, it holds a leading national or regional position in all markets.
About Beijer Byggmaterial
Beijer Byggmaterial AB is Sweden's largest retailer and distributor of building materials with 113 branches across Sweden. The company serves both building professionals and home professionals with high-quality building materials, tools and services. Beijer Byggmaterial has a revenue of approx. SEK 10 billion, employs around 2,500 employees and is part of STARK Group.