Ground-breaking ALS start-up accepted into the Creation House program of BioInnovation Institute (BII), securing funding of EUR 1.3 million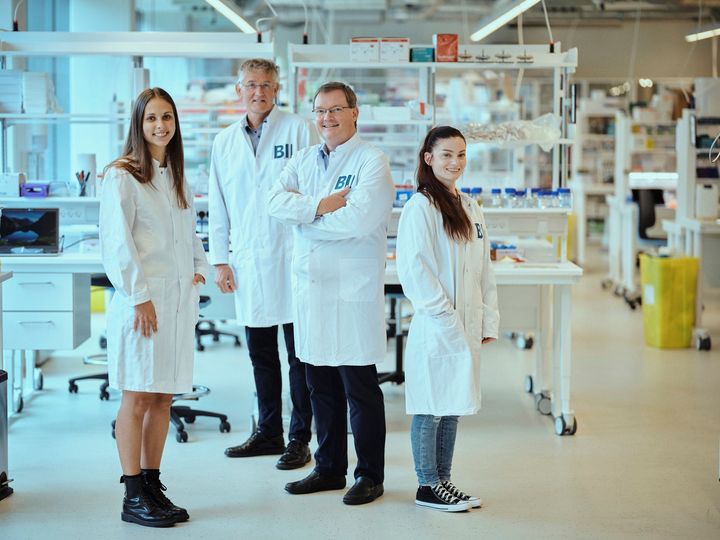 The Bioinnovation Institute (BII) have accepted biotech start-up 2N Pharma into its Creation House program awarding the start-up EUR 1.3 million to develop its first in class treatment for the neurodegenerative disease ALS (amyotrophic lateral sclerosis).
Also called Lou Gehrig or motor neuron disease, ALS is a condition with no known cure.
"We are thrilled to join Creation House where the BII infrastructure, staff and funding will enable us make enormous progress towards our goal of bringing a ground-breaking treatment to ALS patients, giving them hope for a cure for the first time. As a small company, it can be a struggle to reach the network you need. Being a Creation House company opens many doors and we can already see this huge advantage from our early conversations", said Preben Bruun-Nyzell, CEO of 2N Pharma.
Giles Dudley, Senior Business Developer at BII will be anchoring the start-up and has worked with the team on the milestone plan.
"We are delighted to welcome such an experienced team to the BII. ALS is a devasting disease and there is a desperate need for new treatments. Focusing on the mitochondrial aspects adds a new and exciting twist to the research and has great potential, allowing the company to really differentiate itself from the growing competition in this space", said Giles.
Huge Unmet Medical Need
ALS is a rapidly progressive, invariably fatal neurodegenerative disease, characterized by loss of both upper and lower motor neurons. On average, 55 people in the EU, US and Japan (many more globally) are diagnosed with ALS every day. The average age is 55 years and mean survival from diagnosis is 3 years. There is no cure or effective treatment.
An Innovative Approach
2N's new treatments for ALS are based on 10 years of research led by Co-founder John Nieland. In a paradigm shift from conventional approaches, 2N Pharma's drug candidate targets mitochondrial metabolic dysfunction, which is problems with the energy production within target cells. 2N believes this is one of the key drivers of ALS and other neurodegenerative diseases. This ground-breaking treatment strategy with novel, proprietary drugs, makes 2N Pharma unique with essentially no direct competition.
Very Promising Test Results
The company has pre-clinical data from animal tests that shows impacts on ALS that far exceeds the current standard of care for humans, showing 75% survival of ALS diagnosed animals. 2N Pharma is now working to optimize its lead compound for human use to get ready for clinical trials in ALS. In parallel, the company is developing its drug candidates for treatment of other neurological disorders, including Parkinson's Disease and Huntington's Disease.
About BioInnovation Institute
BioInnovation Institute is an incubator supported by the Novo Nordisk Foundation to accelerate world-class life science innovation that drives development of new solutions by early life science start-ups for the benefit of people and society. BII, located in Copenhagen, Denmark, offers start-ups and early-stage projects within health tech, therapeutics and bioindustrials 2300 square-meters of state-of-the art labs, vibrant office facilities, business development, start-up business incubation, access to high-level mentoring and international networks plus unique funding opportunities of up to EUR 1.3 million per start-up and EUR 2.4 million per project. BII also regularly hosts highly recognized international speakers within life sciences as part of the 'Talks at the Square' event series. Since the inauguration of BII in November 2018, BII has awarded 45 million euro to innovative entrepreneurs. Read more at www.bioinnovationinstitute.com/ www.bii.dk
Contacts
Preben Bruun-Nyzell, CEO and Co-founder, pbn@2npharma.com
John Nieland, PhD, CSO and Co-founder, jdn@2npharma.com
Anne Skøttrup Mørkholt, PhD, Project Manager, asm@2npharma.com

About 2N Pharma
2N Pharma




2N Pharma is a biotech company with offices in Aalborg and Copenhagen.
The company was founded by CSO John Nieland and CEO Preben Bruun-Nyzell. who also co-founded the now clinical-stage vaccine company 2A Pharma.
Subscribe to releases from 2N Pharma
Subscribe to all the latest releases from 2N Pharma by registering your e-mail address below. You can unsubscribe at any time.