Be a part of the attempt for the new world record
Copenhagen Half Marathon will be held on the 16th of September, where several male and female runners will attempt to achieve a new world record.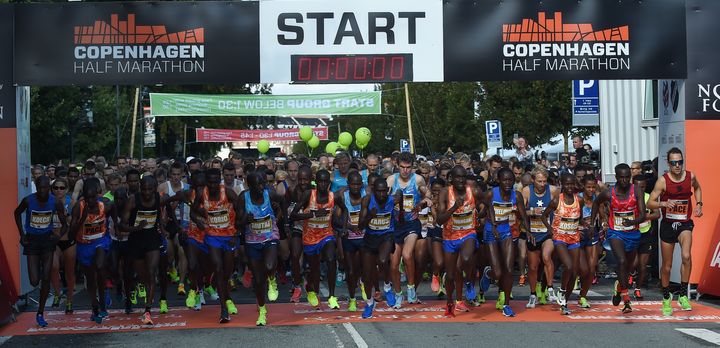 Copenhagen Half Marathon is a world-class race for everyone. Leading the race will be the world's absolute elite, while everyone else will have the oppotunity to compete with the world's fastest runners. The race will kick off on the 16th. of September at 11.15 PM and if we're lucky, a new world record or even two will be set on this date.
Last year it was Abraham Cheroben who won the men's race, with a time of 58.40 minutes, only 18 seconds from a new world record on the fast route around the Danish capital. Cheroben will be present at Copenhagen Half Marathon again this year. Erick Kiptanui will also be racing this year at CPH Half. Earlier this year, he won the Berlin Half Marathon in the time 58.42 minutes. These are the two runners with the fastest personal records but there are also 17 other runners who have a personal record under the magical 60 minutes. So it is an historically strong male team ready to compete on the 16th. of September.
The world champion will be joining the race
There are also great expectations for the women's race, to some of the competitors as strong runners and the possibility of a new world record. The defending world champion and the current world record holder in a pure women's half marathon Netsanet Gudeta will take part in the race, and so will Joan Chelimo Melly, who took the second place at last years Copenhagen Half Marathon. Joan Melly proclaims that she will come to Copenhagen to set a new world record and that she will bring her own male pacer. 
Apart from the absolute world elite, it is expected that 22.500 other runners will compete when Copenhagen Half Marathon will be kicked off for the fourth time.
Read more, and sign up for the race here.
Information about CPH Half Marathon
Date: 16th. of September 2018 at 11.15 PM
Place: Start and finish on Øster Allé, 2100 Copenhagen Ø
Expected number of participants: 22.500
Race record for men: 58.40 min. set by Abraham Cheroben in 2017
Race record women: 66.11 min. set by Eunice Chebichii Chumba in 2017
Information om Sparta Atletik og Motion
Copenhagen Half Marathon er med helt fremme, når det kommer til verdens bedste halvmaratons. I 2017 var det suverænt det hurtigste halvmaraton i verden med hele tre løbere under 59.00 minutter. Ud over den absolutte verdenselite så deltager der også et kæmpe motionsfelt med mere end 20.000 løbere. Arrangørerne af Copenhagen Half Marathon er Sparta Atletik & Motion og Dansk Atletik Forbund.
Den første udgave af Copenhagen Half Marathon fandt sted i 2015 og var et udspring af det succesrige VM i halvmaaton, som blev afholdt i København i 2014. Målsætningen har fra starten været at lave verdens bedste og hurtigst halvmaraton, og den er målsætningen er i manges øjne opfyldt.