Integrity in City Governance During Wartime: Insights from Ukrainian Mayors
September 21th, 16:00
Ukraine House in Denmark
Gammel Dok, Strandgade 27B, 1401 København
Event Overview:
The European Union Anti-Сorruption Initiative (EUACI) together with Ukraine House in Copenhagen is proud to host an enlightening discussion titled "Integrity in City Governance During Wartime: Insights from Ukrainian Mayors" with a special focus on anti-corruption issues. This event will bring together Danish journalists, civil society representatives, and Ukrainians living in Denmark to engage with mayors from the frontline Ukrainian cities, including Mykolaiv, Mariupol and Nikopol. The central focus of this discussion is to delve into the intricate challenges, strategies, and experiences related to city governance during the war, with a keen eye on addressing corruption and promoting integrity. At the event, speakers will elaborate on the tangible effects of the EUACI Integrity City Project, specifically addressing its contributions to transparency, accountability, inclusivity, and efficient governance. They will also discuss concrete practices employed in these areas during the post-war recovery process. Special focus will be devoted to the discussion of the Danish-Mykolaiv Partnership.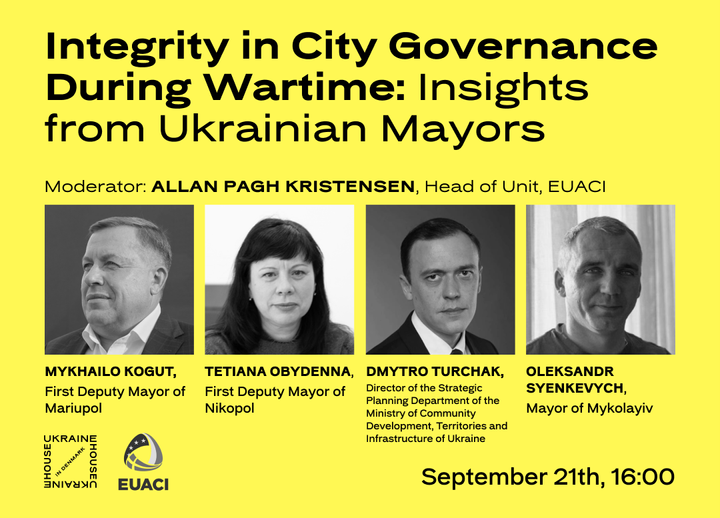 Speakers: Mayors and Deputy Mayors of Ukrainian Cities
OLEKSANDR SYENKEVYCH, MAYOR OF MYKOLAYIV
MYKHAILO KOGUT, FIRST DEPUTY MAYOR OF MARIUPOL
TETIANA OBYDENNA, FIRST DEPUTY MAYOR OF NIKOPOL
DMYTRO TURCHAK, Director of the Strategic Planning Department of the Ministry of Community Development, Territories and Infrastructure of Ukraine
Moderator: ALLAN PAGH KRISTENSEN, Head of Unit, EUACI
Discussion Questions:
What does the concept of Integrity City mean to mayors? How have societal demands for combating corruption, transparency, and accountability processes changed with the war?
What practices and approaches are implemented within the municipal councils, and which of these have the most positive impact?
Mykolaiv aspires to become an exemplary city for post-war reconstruction. What measures is the city taking to achieve this goal, and what are the future plans?
How can effective oversight of international assistance be ensured?
Are citizens actively involved in the planning of post-war reconstruction efforts?
How do mayors collaborate with both national and international partners to access essential resources and expertise to aid their cities during wartime, particularly in the context of anti-corruption efforts?
How do mayors and the government strike a balance between addressing urgent issues and planning for post-war recovery.
Working language - English and Ukrainian. Simultaneous translation will be provided.
About the EUACI
The EU Anti-Corruption Initiative (EUACI) – the leading anti-corruption support program in Ukraine funded by the EU, co-funded and implemented by the Ministry of Foreign Affairs of Denmark. The program was established in June 2017.
The context in which the EUACI is working has changed radically since the beginning of the full scale war. Now four main pillars constitute the foundation of its work:
Facilitate that upcoming reconstruction (and current humanitarian) aid are managed and utilized with respect for integrity, transparency and accountability.
Support EU integration in anti-corruption, including appropriate reforms and legislative developments that will bring Ukraine closer to the EU.
Enhance asset recovery and tracing work to support the policy of sanctions against Russians that are supporting the aggression against Ukraine.
Promote resilience of the anti-corruption infrastructure and ensure that EUACI's partners can continue to function during the war and after Ukraine's victory.

Registration: https://docs.google.com/forms/d/e/1FAIpQLSexWZAl8yd-QPBwWQ2hnWpNkQq4Sstje6-wXOet2tILXU3fqw/viewform