CPH Half: World-Class Runners Lead Record-Sized Field
The 9th edition of the Copenhagen Half Marathon, like in previous years, boasts a star-studded lineup, with nine runners having completed the distance in under an hour, while even more are poised to break that barrier for the first time.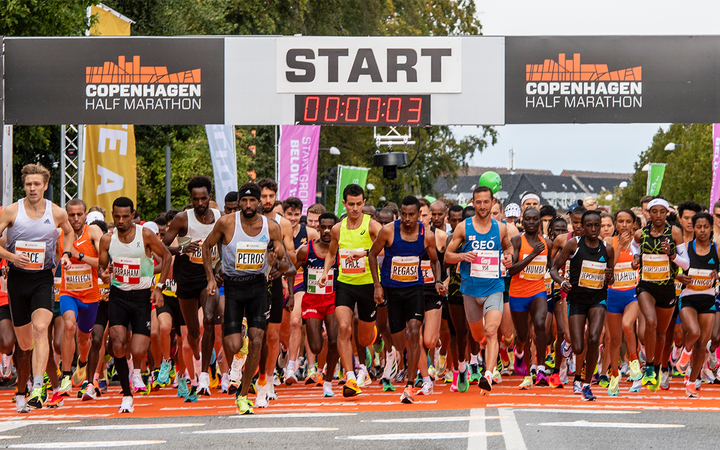 A packed field of world class runners will once again chase some fast times at Copenhagen Half Marathon coming up this Sunday 17. september. The 27,000 race bibs sold out in record time three months ago, and the interest in participating in the Copenhagen Half Marathon has never been greater – especially among the world's elite long-distance runners. Once again this year, the organizers present an elite field from the very top shelf, dominated mainly by East Africans – with a few notable exceptions.

Despite a personal record of 58:28 minutes and a ranking as the 10th fastest man ever, Kennedy Kimutai can't be considered a towering favorite. The field is simply too strong. The 24-year-old Kenyan will face several of his compatriots, including 35-year-old Bernard Kiprop Koech, who won the Hamburg Marathon earlier this year in a new race record of 2:04:09 hours. Koech has an impressive track record, including a 2nd place finish in the 2021 Amsterdam Marathon. Sunday's race, however, will be his first attempt at the half distance since 2015.

Other strong Kenyan contenders expected to be at the forefront include Bravin Kiprop (3rd at the Berlin Half Marathon in April with a time of 59:22 min.) and Richard Yator Kimunyan (3rd in Ras Al Khaimai with a time of 59:37 min.). The 19-year-old Ethiopian Boki Diriba is another interesting name who might break the 60-minute barrier for the first time.

The Magical Hour
At last year's edition of the CPH Half, the first 15 runners crossed the finish line in under an hour, an unprecedented level of depth unmatched by any other half marathon race, even at the World Championships. Whether this record will be surpassed this year remains to be seen. Several runners in this year's lineup come with personal records under the "magical" hour, while many more hope to break that barrier for the first time. This includes Eritrean-born Norwegian Zerei Kibrom Mezngi, who ran in Copenhagen last year in 60:01 min., and New Zealand's Jake Robertson, who holds a time of 60:05 min. this year.

There will also be significant focus on Henrik Ingebrigtsen, who, as the first of the three well-known Norwegian brothers, is making his half marathon debut. The 31-year-old runner recently demonstrated his speed with a personal record in the 3000 meters in Zagreb.

Kenya, Ethiopia, Uganda – and Norway
The women's race is led by Gladys Chepkurui, currently ranked 7th in the world this year with a time of 65:46 min. Expectations are also high for the half marathon debut of her compatriot Jesca Chalangat, who is ranked 2nd in the world this year in the 10 km road race. From Ethiopia, Hawi Feysa, who secured 2nd place with a personal record of 65:41 min. at CPH Half two years ago, will be competing, along with Uganda's Sarah Chelangat, who recently placed 10th in the 10,000 meters at the World Championships in Budapest and set a national record in the 5000 meters in Stockholm in July.

Norway also has a strong contender on the women's side, Karoline Bjerkeli Grøvdal, who might be in contention for a top spot. The 33-year-old Norwegian has won the European Cross Country Championships in the past two years and has achieved two 3rd-place finishes at the New York Half Marathon, including one in 2022 when she set the current Nordic record with a time of 68:07 min. A recent 5 km road race resulted in another Nordic record.

Editors note: Use of the attached pictures is free. If you use the pictures of Henrik Ingebrigtsen please credit Deca Text & Bild.
The Copenhagen Half Marathon has one of the world's fastest half marathon course. This was once again emphasized in 2018 when a new European record was set among women, and a total of eight men ran under 60 minutes. In addition to the absolute world elite, there is also a massive field of recreational runners with over 27,000 participants. The organizers of the Copenhagen Half Marathon are Sparta Atletik & Løb and the Danish Athletics Federation.
The first edition of the Copenhagen Half Marathon took place in 2015 and was a result of the successful World Half Marathon Championships held in Copenhagen in 2014. The goal from the beginning has been to create the world's best and fastest half marathon, and many consider that goal to have been achieved.