See you after July 24th
The architecture exhibition "Spaces of Dignity" will be closed for summer vacation from July 10th till July 24th. However a team of 15 volunteers at Ukraine House in Denmark is continuing to work on future projects, so in August our guests can participate in even more panel discussions, exhibitions, concerts and more.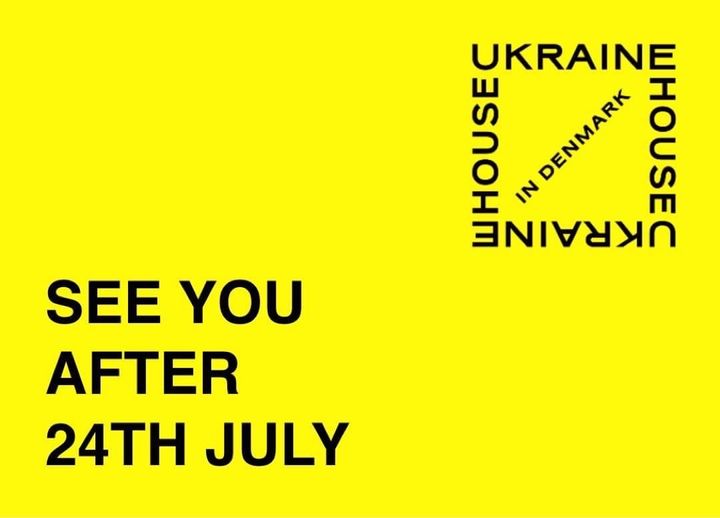 Our accomplishments since inception include:
2500+ visitors
2 exhibitions
3 concerts
1 cinematic evening
2 book launches
50+ speaker engagements
15+ talks, lectures and panel discussions, including:
1. What can history foretell us about the outcomes of Russia's war against Ukraine?
2. What is the future of Ukraine's parliamentary democracy?
3. What are the media lessons from the war?
4. Art Dialogues – Sister's Hope and Odesa Museum of Modern Art
5. Reflections on Foreign policy, Culture and Security from Copenhagen Democracy Summit 2023
6. Easter Marathon – How we protected Cultural Heritage under Repressions in Soviet times
7. Discovering Shevchenko – the legend and the poet
8. Who was the inventor of the Black Square?
9. The role of Culture for the Ukrainian Societal Resilience
10. Invasion – book presentation and discussion with the author – Luke Harding of the Guardian
11. Shaping a New Europe – moderating talk at Folkemodet
12. Culture as War Strategy – talk at Folkemodet
13. How can EU creative entrepreneurship support Ukraine?
14. Who are Ukrainians? Session with Information Bladet
15. Protect the Body, Nurture the Soul panel at CAF opening
16. Rebuild Mykolaiv "City's team introduces its vision of the future"
6 interventions with the Ukrainian content into major platforms:
Theory of Protection by Daria Koltsova and Copenhagen Democracy Summit 2022
Discover Ukraine: Bits Destroyed at Kulturnatten
Postcards from Ukraine and It's Not Over projects at Copenhagen Democracy Summit 2023
Spaces of Dignity and Shelter the Body, Nurture the Soul series of discussions at Copenhagen Architecture Festival 2023
Collaboration with Tableau to introduce Gunia Ukrainian brand at 3DaysofDesign 2023
Ukraine House at Folkemodet 2023– moderating and speaking at the International Scene, the media
We are looking forward to seeing you in the center of Ukrainian culture after July 24th.
Ukraine House will be open 12:00 to 18:00 every day, except for Mondays.
Address: Gammel Dok, Strandgade 27B, Copenhagen.
Social media:
For press inquiries, please contact Maya Zakhovaiko, communications lead, press@ukrainehouse.dk