BACKED USA launches world's most advanced investment token BACD
BACKED announced today, that BACKED is listing 5% of its token holdings of 1 billion tokens on Coinsbit on Friday. The company has over the last 3 years built a unique investment concept, where investors by investing in the BACD token automatically invests in a portfolio of digital assets and tokenized private equity shares.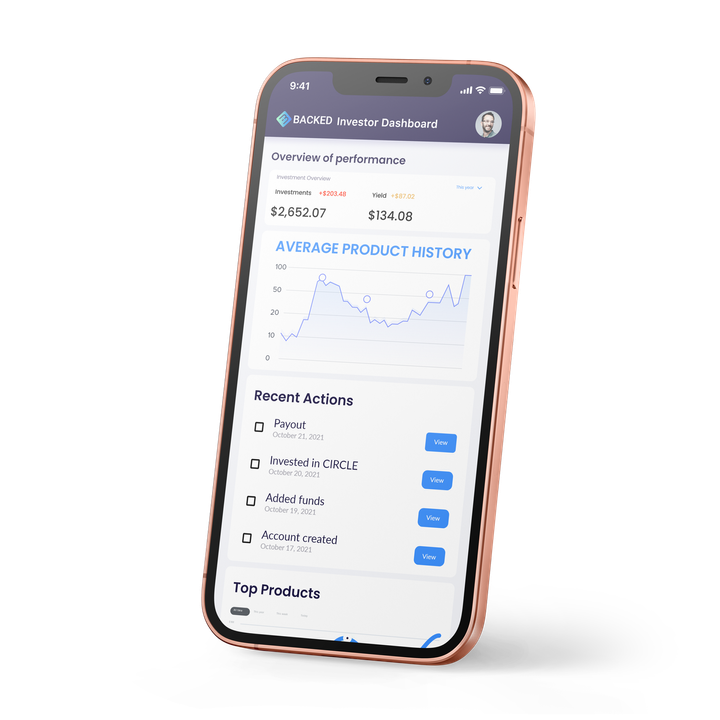 Multiple inventions are introduced
BACKED has introduced a human proof of stake concept, where the community works with the growth companies and BACKED to increase the valuations of the growth companies and the BACD token itself. It is an environmentally friendly solution, where BACKED instead of energy waste, exchanges talent for BACD tokens.
Moreover, BACKED uses innovative new ways of voting procedures in order to govern the investments and all other issues of its decentralized organization.
To prevent pump and dump of the tokens, BACKED moreover, makes it impossible for large shareholders to hold a majority of the tokens.
"BACKED defined a new kind of alternative investment fund, where investors do not have to know too much about digital assets and private equity to invest. The concept enables investors to diversify their risk and invest in optimal mixes between high performing asset classes, James Ditmore, chairman at BACKED, and former COO of Danske Bank explains. By having full control of the companies and assets, we invest in, and by using newest technologies like AI, big data, we believe, we have found a sustainable and risk averse investment concept of the future"
Kevin Yunai, the founder of the BACD token project further explains. "We wanted to make it extremely simple and fast to invest and monitor your investments, and at the same time have full control of your investments. Furthermore, we wanted to create a universe, where the investors are certain that every case we invest in, have been decided together. At a macro level, we wanted to create an equilibrium where all parties win, from regulators, to the traditional banks and institutional investors, right down to the talent, who does not have the resources to invest, but instead can invest talent and still be shareholder.
Future plans
The listing on Coinsbit marks the beginning of the BACKED journey, Kevin Yunai explains. We will list on several exchanges, also our own, and also on all DeFi exchanges, as we also believe DeFi Exchanges will be the exchanges of the future. With DeFi we disrupt the traditional finance issues such as geographical barriers around fast movement of capital, we eliminate the middle men, while maintaining total transparency, at very little fees. With tokenization we disrupt the traditional problems with private equity being somewhat illiquid, instant settlement time. And finally with our talent mining concept, we solve the growing concern about environmental issues of mining crypto.

Kevin continues… We will use the 2 percent management and the 20 percent carry we get from successful investments, to further develop our platforms and have very interesting projects in the making with AWS and it's partners. We are here for the long run.

But we have to remember, that we are still very early phases in the adoption of digital assets and unfortunately many of the more traditional investors are still in denial of the importance of digital assets and still think for instance that Bitcoin has no value, despite of a market cap of 1 trillion and a total market cap for crypto of 2,3 trillion USD, whereas the younger generation just love crypto currencies and love investing in them. This is why we start very basic with giving onboarding help to installing Trust Wallets and Meta Mask wallets and educate the investors, for instance by giving them free copies of our book on Bitcoin – the new form of money. When people experience the speed, transparency and effectiveness of settling in digital assets, when they see the ROIS and opportunities, when they start to realize the market caps and daily trading volumes, this is where they realize that the old monetary system and stock market is probably not as future proven, as they thought and that it after all might be a good idea to start making risk diversification and take a portion of their noted stock allocation and allocate that into digital assets and private equity".
Contacts
Kevin Yunai
kevin@backed.ai
+45 55271033

Subscribe to releases from BACKED USA
Subscribe to all the latest releases from BACKED USA by registering your e-mail address below. You can unsubscribe at any time.
Latest releases from BACKED USA